Publication:
Origen y diversidad de polen apícola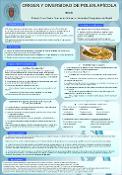 Authors
Advisors (or tutors)
Editors
Abstract
Las abejas recogen el polen de los estambres de las plantas humedeciéndolo con saliva, miel y/o néctar y lo transportan a la colmena en las corbículas de sus patas posteriores. A este polen se le conoce como polen apícola o corbicular y constituye el principal alimento proteico tanto para la cría como para la abeja adulta. Gracias a la diversidad de tipos polínicos en el polen apícola, y a su diferente composición química que depende en gran parte de su origen geográfico, las abejas puede tener una nutrición con un elevado contenido proteico y de calidad. Ello es muy importante no sólo para su desarrollo y supervivencia sino también para una buena polinización de las plantas y por tanto para una adecuada conservación de los ecosistemas y gestión de los agrosistemas. Además el polen apícola es un producto con beneficios nutricionales y farmacológicos para ser humano. Muestra una gran variedad de propiedades terapéuticas actuando como agente antimicrobiano, antifúngico, antiinflamatorio y análgesico, entre otros.
Bees collect the pollen from the plant stamens by moistening it with saliva, honey and / or nectar and transporting it to the hive in the corbicules of their hind legs, this pollen is known as bee or corbicular pollen and constitutes the main food Protein for both breeding and adult bee. Thanks to the diversity of bee pollen and its different chemical composition that depends largely on its geographical origin, you can have quality nutrition with a high protein content that is important for the development and survival of bees, also for a good Pollination and therefore a conservation of the ecosystem. In addition, it is a product with many benefits both nutritional for bees and for humanity as pharmacological, with a great variety of therapeutic properties acting as antimicrobials, antifungals, anti-inflammatories, analgesics among others.