Publication:
Diversidad y aspectos microevolutivos en cosimbiontes liquénicos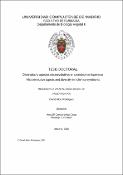 Files
Authors
Advisors (or tutors)
Editors
Publisher
Universidad Complutense de Madrid
Abstract
Los líquenes son paradigma de estudios de simbiosis y resultan interesantes como objeto de estudio ecológico, biogeográfico y también reproductivo por sus múltiples modos de reproducción y sistemas de emparejamiento. El estudio de la microevolución, evolución a nivel de especie o inferior, requiere la delimitación precisa de las especies, que puede ser muy complicada debido a la presencia de especies crípticas, morfológicamente indistinguibles. Aunque hay múltiples conceptos de especie a nivel teórico, el más aceptado es el Concepto General de Linaje, la taxonomía integrativa trata de satisfacer los distintitos criterios de especie, al integrar múltiples líneas de evidencia para delimitar especies. Los análisis basados en coalescencia son muy útiles para descubrir diversidad oculta en especies polifiléticas. La diversidad oculta se ha podido hallar en los fotobiontes intratalinos de diversas especies al utilizar los marcadores moleculares apropiados. Esta variabilidad de fotobionte confiere mejor adaptación al medio ambiente y está influenciada por el tipo de reproducción del líquen. El cultivo axénico de los simbiontes liquénicos puede aplicarse a la obtención de tintes y principios activos para las industrias textil y farmacéutica, a la secuenciación genómica o a conocer las estrategias reproductivas de los líquenes. Las repeticiones de secuencias cortas (microsatélites) son regiones genómicas muy variables y los marcadores moleculares diseñados para amplificar estas regiones se utilizan para estudios de genética de poblaciones y de ecología molecular. Para estar seguros de la especificidad simbiótica de los marcadores moleculares es conveniente obtenerlos a partir de cultivos puros...
Lichens are paradigm organisms to study symbiosis for the stability of the symbiotic relationship between symbionts. Moreover, lichens are one of the best models to study ecological, biogeographical and reproductive facets due to the variety of reproductive modes and mating systems. In order to study the microevolution in lichens, or evolution at specific and infraspecific level, is necessary a precise species boundaries and species delimitation due to frequent appearance of cryptic species - morphologically indistinguishable - in lichens and in fungi in general. There are several theoretic species concepts but the General Lineage Concept obtains greater consensus between researchers. The integrative taxonomy joins multiple lines of evidence to satisfy the variety of species concept and species delimitation criteria. The Coalescent based methodologies has been very help to uncover hidden diversity in morpho species and even in polyphyletic species. Further, the use of appropriate molecular markers has been useful to uncover intra-thalline photobiont diversity, which has an adaptative advantage to changing environments. The diversity of the photobiont within lichen species and within a lichen thallus is highly influenced by the reproductive mode of the lichen species. To improve the knowledge about lichen symbionts and reproductive strategies, aposimbiotic cultures are recommended. Moreover, lichen axenic cultures have several applications including obtaining dyes and drugs used in textile and pharmaceutical industries, or sequence whole genome for further basic and applied research. For example, short sequences repeats (microsatellites) are highly variable genomic regions, and molecular markers designed to amplify these regions are used for population genetics and molecular ecology studies. In order to ensure which lichen symbiont is being analyzed, it is desirable obtain microsatellite markers from pure aposimbiotic culture...
Description
Tesis inédita de la Universidad Complutense de Madrid, Facultad de Farmacia, Departamento de Biología Vegetal II, leída el 23-05-2017
Collections