Publication:
El patrimonio recobrado: museos indígenas en México y Nueva Zelanda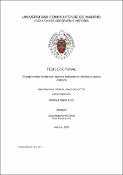 Files
Authors
Advisors (or tutors)
Editors
Publisher
Universidad Complutense de Madrid
Abstract
El museo ha sufrido profundos y revolucionarios cambios en décadas recientes. Se ha multiplicado, expandido, diversificado, popularizado, democratizado y, finalmente, se ha abierto a todo tipo de comunidades y culturas. La presente investigación se ocupa de este último punto: la proliferación de museos indígenas a lo largo del globo, y específicamente en dos de los más avanzados exponentes de museología indígena que se han dado. En México en primer lugar, donde los pequeños municipios del estado de Oaxaca decidieron erigir sus propios museos para narrar la historia de su comunidad. En Nueva Zelanda, en segundo, donde el museo nacional ha sido renovado para incluir en él la visión del pueblo maorí. El trabajo que aquí se presenta es por tanto un estudio comparativo que pretende analizar y contextualizar críticamente el surgimiento de los denominados como museos comunitarios o museos indígenas a través del análisis de contextos tan diversos como el de América Latina y el Pacífico Sur. Los objetivos de la presente investigación son múltiples. Primero, podríamos decir, estaría el objetivo meramente museológico, es decir, analizar tales museos en cuanto objeto de estudio. Estudiar su surgimiento, su contenido, su museografía y su discurso. Para ello se han realizado estancias de investigación tanto en México, como Nueva Zelanda y Estados Unidos; se ha visitado tales museos, se han recopilado fuentes icónicas, documentales y orales. Se ha entrevistado a los responsables y curadores indígenas que los gestionan. Interesa aquí apreciar la aplicación de perspectivas nuevas en el museo, no sólo en las posibles diferentes visiones de la historia que puedan enarbolar sino en los protocolos culturales para el cuidado y exhibición de los objetos allí expuestos...
Over recent decades, museums have undergone deep and revolutionary changes. Not only have they multiplied and expanded, they have become more diversified, popularized and democratic in nature. Lastly, they have opened up to all kinds of communities and cultures. This latter point will be the focus of the present investigation: the proliferation of indigenous museums across the globe, centering specifically on two of the most advanced examples of indigenous museology that has materialized. Firstly, in Mexico, where small towns in the Oaxaca region decided to set up their own museums to narrate the history of their community. Secondly, in New Zealand, where the national museum has been renovated in order to include the vision of the Maori population. This present essay therefore adopts a comparative approach in an attempt to critically analyze and contextualize the emergence of centers that have been classified as community or indigenous museums through an analysis of contrasting examples such as those mentioned in Latin America and South Pacific. This investigation therefore has multiple objectives. Firstly, it may be considered as having a merely museological purpose, or in other words, attempting to analyze such museums as an object of study; studying their rise, content, museography, and discourse. With this in mind, investigative placements were carried out in Mexico, New Zealand and United States; visits were made to the museums in question, documentary, oral and iconographic sources compiled, and interviews were carried out with indigenous curators and people in charge. Here we should value the introduction of new perspectives within these museums, not only with regards to the different views of history that they can produce, but also where the cultural protocols for protecting the exhibition artefacts is concerned...
Description
Tesis inédita de la Universidad Complutense de Madrid, Facultad de Geografía e Historía, leída el 30-01-2017
Collections