Publication:
Vides y vinos de la antigua Grecia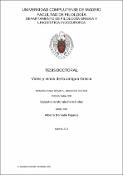 Files
Authors
Advisors (or tutors)
Editors
Publisher
Universidad Complutense de Madrid
Abstract
Introducción. Es suficientemente conocida hoy la importancia que llegó a adquirir el vino y su consumo en la vida cotidiana, social, económica y religiosa de la antigua Grecia. De ello tenemos cumplidas muestras en las fuentes escritas, de cualquiera de sus épocas, que han llegado hasta nosotros, bien sean fuentes puramente literarias, bien sean escritos médicos o agronómicos, o bien se trate de papiros o inscripciones. Pero también los descubrimientos arqueológicos (vasos, principalmente de cerámica, pinturas o monedas) aportan su parte a ese conocimiento. Y de todas estas fuentes, sobre todo de las literarias, médicas y agronómicas, se ha hecho uso en el presente trabajo. El vino en la antigua Grecia (como en otros pueblos primitivos del área mediterránea) fue al principio un producto minoritario y caro, una bebida propia héroes y de clases altas y gentes pudientes, con escasa presencia en otros ámbitos, pero su consumo no tardaría en popularizarse y extenderse prácticamente a todas las capas de la sociedad. Fue considerado desde siempre como un excelente alimento, tuvo una presencia muy importante en la medicina y se le vio como el mayor regalo que los dioses pudieron hacer nunca a los hombres mortales. Y estaba tan presente en la sociedad griega antigua que terminó por formar parte de su cultura y civilización como un elemento indisociable de ellas. 2. Síntesis. Para atender y satisfacer el considerable consumo que se hizo de vino en la Grecia antigua (sobre todo a partir de la época clásica) debieron de cultivarse viñas y de elaborarse vino un poco por todo su amplio y variado territorio. Y, en consecuencia, debieron de existir muchas variedades de vides y también muchas zonas de producción de vino y, por consiguiente, también muchos nombres, tanto de vides como de vinos. Debido a ello la principal pretensión del presente trabajo ha sido precisamente construir un catálogo o inventario de las vides que se cultivaron y de los vinos que existieron y se bebían en el territorio griego (Grecia continental e islas del mar Egeo más las zonas del Asia Menor y la Magna Grecia) y de los autores que los citan, desde los tiempos de Homero (siglo VIII a.C.) hasta el fin del mundo clásico (siglo VI d. C.)...
Introduction. We are all well acquainted nowadays with the importance of wine culture in Ancient Greece on its daily, social, economical and religious life. We have written evidence of this from all the Ancient Greece eras, such as purely literary sources, medical or agronomical documents, or papyrus manuscripts or inscriptions, which have reached our times. Archaeological discoveries such as ceramic vases, paintings or coins also contributed to this knowledge. All these sources, especially the literary, medical and agronomical ones have been used in this project. Wine in Ancient Greece (in the same way as in other ancient Mediterranean civilizations) was originally an exclusive and expensive product, a drink limited to heroes and high position people, and that was barely seen in other scenes, although it would soon become popular and expand virtually to all social classes. It has always been considered as an excellent nutrient, it was very important in the world of medicine, and it was considered as the best gift that the gods could have ever made for mere mortals. It was of such a big importance in the ancient Greek society that it ended up merging with its culture and civilization, being impossible to separate it from them. 2. Abstract. In order to look after and satisfy the vast amounts of wine that were consumed during the ancient Greek times (above all since the classical period), multiple vines ended up being cultivated and wine was elaborated in every single corner of its territory. And, therefore, multiple varieties of vines and also multiple wine production areas must have existed, resulting in a big amount of vine and wine names. This has precisely been the principal purpose of this project: to create a catalogue or inventory of the vines that were cultivated and of all the different wines that existed and were consumed in Greek territory (continental Greece and the Aegean islands, plus Asia Minor and Magna Graecia areas) and of the authors that make reference to them, from Homer times (8th century BC) until the end of the classical world (6th century AD)...
Description
Tesis inédita de la Universidad Complutense de Madrid, Facultad de Filología, Departamento de Filología Griega y Lingüística Indoeuropea, leída el 19/04/2017
Collections