Publication:
Efectos de las proantocianidinas sobre las alteraciones cardíacas producidas por la aldosterona en la rata: mecanismos implicados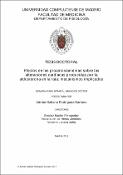 Files
Advisors (or tutors)
Editors
Publisher
Universidad Complutense de Madrid
Abstract
El exceso de aldosterona produce alteraciones cardíacas estructurales y funcionales a través de diversos mecanismos, tales como determinados cambios en la expresión de sus mediadores intracelulares y de transportadores iónicos. Un estudio previo realizado por nuestro grupo de investigación demostró los efectos cardioprotectores de las proantocianidinas en ratas con hiperaldosteronismo. En dicho estudio, el tratamiento con proantocianidinas disminuyó la expresión del SGK1, el principal mediador intracelular de la aldosterona, sugiriéndose así un posible efecto antagonista del receptor de mineralocorticoides. Teniendo en cuenta que el SGK1 modula la acción de ciertos transportadores iónicos en el riñón y en el corazón en respuesta a la aldosterona, y dados los efectos cardiacos de las proantocianidinas mencionados anteriormente, se planteó estudiar los posibles efectos de éstas sobre la expresión de mediadores intracelulares implicados en el transporte iónico de sodio, potasio y calcio en el corazón de ratas con hiperaldosteronismo producido por la administración crónica de aldosterona...
Aldosterone excess produces structural and functional cardiac alterations through several mechanisms, such as certain changes in the expression of its intracellular cardiac mediators and proteins involved in ion transport. A previous study from our research group demonstrated a cardioprotective effect of proanthocyanidins in rats with experimental hyperaldosteronism. In that study, treatment with proanthocyanidins downregulated the cardiac expression of SGK1 which is considered the main aldosterone intracellular mediator, suggesting a mineralocorticoid receptor antagonism. Since SGK1 modulates several ion transporters in the kidney and in the heart in response to aldosterone, and considering the mentioned beneficial effects of proanthocyanidins, we aimed to study the possible effects of these compounds on protein expression of intracellular mediators involved in sodium, potassium and calcium transport in the heart of rats with hyperaldosteronism induced by chronic administration of aldosterone...
Description
Tesis inédita de la Universidad Complutense de Madrid, Facultad de Medicina, Departamento de Fisiología, leída el 03/03/2017
Collections