Publication:
Evaluación de la vitamina D sobre la activación de la neurogénesis y gliogénesis adulta en un modelo de desmielinización aguda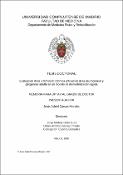 Files
Authors
Advisors (or tutors)
Editors
Publisher
Universidad Complutense de Madrid
Abstract
Las enfermedades desmielinizantes del sistema nervioso central SNC constituyen un amplio espectro de enfermedades inflamatorias idiopáticas en las que intervienen diferentes procesos y factores que se caracterizan por provocar un daño en la mielina del SNC. La enfermedad más representativa de este grupo es la Esclerosis múltiple (EM). Hay evidencia de que al inicio de la EM, existe una remielinización en las lesiones desmielinizadas. Se sabe poco sobre el papel de la VD durante la mielinización, pero hay varios estudios han indicado un potencial papel de la VD en la mielinización y la remielinización. Además, es considerada como un neuroesteroide. La VD tiene función directa sobre la expresión de la sintasa del ácido nítrico inducible en la microglía, esto podría influir en el equilibrio inflamatorio-antiinflamatorio que es relevante en la remielinización. La VD también aumenta la activación microglial lo que podría facilitar la eliminación de los restos de mielina y facilitar la remielinización. Asimismo, las células madre de origen neural (NSC) expresan VDR y 1,25(OH)2D. 1,25(OH)2D incrementa la proliferación de las NSC y su diferenciación a neuronas y oligodendrocitos reduciendo la artrogliosis. Por lo que la VD es considerada como un neuroesteroide y modula la inflamación y juega un papel primordial en los eventos remielinizantes y neuroprotectores en el sistema nerviosos central y puede estimular la generación de oligodendrocitos en los nichos neurogénicos clásicos...
Demyelinating diseases of the central nervous system CNS constitute a broad spectrum of idiopathic inflammatory diseases involving different processes and factors that are characterized by damage to the myelin sheaths of the CNS. The most representative of this group is the Multiple Sclerosis (MS). There is evidence that at the beginning of the EM, there is a remyelination in the unmyelinated. Little is known about the role of the VD during myelination, but there are several studies have indicated a potential role of the VD in myelination and remyelination. In addition, it is considered as a Neuroesteroide. The VD has direct role on the expression of the inducible nitric acid synthase in the microglia, this could influence the balance inflammatory-anti-inflammatory that is relevant in the remyelination. The VD also increases the microglial activation, which could facilitate the elimination of the remnants of myelin and facilitate remyelination. In addition, the neural stem cells (NSC) express VDR and 1.25(OH)2D. 1.25(OH)2D increases the proliferation of NSC and their differentiation into neurons and oligodendrocytes by reducing the artrogliosis. So the VD is considered as a neuroesteroid and modulates the inflammation and plays an important role in the neuroprotective agents in the central nervous system and can stimulate the generation of oligodendrocytes in the classic neurogenic niches...
Description
Tesis inédita de la Universidad Complutense de Madrid, Facultad de Medicina, Departamento de Medicina Física y Rehabilitación, leída el 07-06-2017
Collections