Publication:
Mecanismos responsables del empeoramiento asociado a la edad en esclerosis múltiple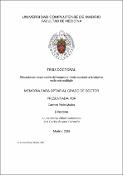 Files
Authors
Advisors (or tutors)
Editors
Publisher
Universidad Complutense de Madrid
Abstract
La esclerosis múltiple (EM) es una enfermedad inflamatoria crónica del SNC de naturaleza autoinmune que produce desmielinización y daño axonal. Su etiología no es del todo conocida aunque se sabe que distintos factores genéticos y ambientales contribuyen a la susceptibilidad a esta enfermedad. Tampoco se conocen los mecanismos inmunológicos que juegan un papel importante en la EM. Aunque distintos trabajos han estudiado las diferencias entre la EM y otras patologías no inflamatorias, las diferencias con otras patologías inflamatorias no se han estudiado en profundidad. Tampoco se conocen los factores inmunológicos que se asocian con el daño axonal, la variable responsable de la discapacidad en la EM. Además, durante la evolución de la enfermedad, parecen existir dos fases. En al fase inicial predomina la inflamación, asociada a desmielinización y daño axonal. En la segunda fase, que en la un principio se solapa con la primera, habría una respuesta inflamatoria compartimentalizada, y una activación crónica de la respuesta inmune innata. Sin embargo, quedan por explorar las los cambios en distintas subpoblaciones celulares asociados a la edad en esta patología. Aproximadamente un tercio de los pacientes con EM muestra bandas oligoclonales IgM (BOC-M+) en LCR frente a lípidos. Múltiple trabajos han demostrado que estos anticuerpos son un biomarcador que se asocia con un mal pronóstico de la enfermedad. Sin embargo se desconoce su asociación con marcadores de inflamación y neurodegeneración en la enfermedad y si la presencia de estos anticuerpos condiciona la inmunosenescencia en la EM...
Multiple Sclerosis is a chronic inflammatory autoimmune disease of the central nervous system that causes demyelination and axonal damage. MS etiology remains unknown but genetic and environmental factors contribute to MS susceptibility. In addition, little is known about the immunological mechanisms playing an important role in the disease. Several reports have compared MS with non inflammatory diseases but differences with other inflammatory diseases have not been fully elucidated. The immunological mechanisms associated to axonal damage, the cause of the disability in MS, also remain unknown. On the other hand, it was suggested that MS is a two-phase disease. In the first one, the adaptive and innate immune responses mediate acute inflammation linked to demyelination and axonal damage. It is proposed that the second phase mainly show chronic activation of the innate immune response and a compartmentalized inflammation. However, aging effects in cell subsets remain unexplored. Around 30% of MS patients have oligoclonal IgM bands (OCB-M+) in the cerebrospinal fluid (CSF) that recognize lipids. Several reports have proven that these antibodies are a biomarker of poor disease outcome. However, little is known about it association with inflammatory and neurodegenerative markers in the disease and with immunosenescence...
Description
Tesis inédita de la Universidad Complutense de Madrid, Facultad de Medicina, leída el 24-04-2017
Collections