Publication:
Evaluación de la calidad asistencial al traumatizado en un período de 20 años: análisis de la mortalidad evitable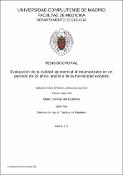 Files
Authors
Advisors (or tutors)
Editors
Publisher
Universidad Complutense de Madrid
Abstract
Sabemos por numerosos estudios que las posibilidades de supervivencia de los traumatizados graves son mayores si se les proporciona un adecuado manejo hospitalario. Los controles de calidad en los cuidados de estos pacientes y la organización de los sistemas de trauma han demostrado una reducción de la morbilidad y de la tasa de muertes evitables (MEs). La evaluación de la calidad asistencial en trauma resulta particularmente difícil, y estos porcentajes de MEs continúan siendo usados como el principal índice de calidad asistencial, junto con el análisis de errores y las tasas de lesiones inadvertidas (LIs). Para poder identificar y analizar esas MEs, se ha recomendado desde hace años el análisis estadístico de distintos sistemas o modelos de puntuación de la gravedad como el modelo TRISS. Este modelo de regresión logística para predecir la mortalidad por trauma determina la probabilidad de supervivencia (Ps) del paciente, considerando parámetros anatómicos y fisiológicos, y tomando como referencia bases amplias de datos como la MTOS (Major Trauma Outcome Study) americana. Por otra parte, el ISS (Injury Severity Score) sigue siendo la escala predictiva más usada a nivel internacional y sirve para definir al paciente traumatizado grave (ISS>15). Sin embargo, tiene evidentes limitaciones predictivas en determinados subgrupos de pacientes, por lo que a lo largo de los últimos años se han desarrollado otras escalas o modelos predictivos que intentan mejorarlo, como el NISS (New Injury Severity Score) y otros...
We know from numerous reports that the chances of survival of severe trauma patients may be higher if given a suitable hospital management. Quality control in the care of these patients, and the organization of trauma systems, have shown a reduction in morbidity and preventable deaths (PDs). The evaluation of the quality of trauma care is particularly difficult, and the PD rate in trauma remains the most frequently used index of quality of care, together with the assessment of errors and missed injuries. To identify and analyze these PDs it has been recommended for years the statistical analysis of different scoring systems such as the TRISS model. This logistic regression model to predict mortality from trauma determines the probability of survival (Ps) of the patient, considering anatomical and physiological parameters, and using reference databases with thousands of patients such as the American MTOS (Major Trauma Outcome Study). Moreover, the ISS (Injury Severity Score) remains the most widely used predictive scale and serves to define severe trauma (ISS>15). However, it has obvious predictive limitations in some subgroups of patients. Other scales or predictive models have been developed over the years that attempt to improve it, such as the NISS (New Injury Severity Score), and others...
Description
Tesis inédita de la Universidad Complutense de Madrid, Facultad de Medicina, Departamento de Cirugía, leída el 09/06/2017
Collections