Publication:
Estudio de la asimetría rotuliana como marcador de riesgo del dolor femoro-patelar. Análisis de elementos finitos de la sentadilla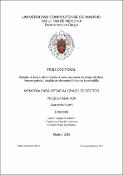 Authors
Advisors (or tutors)
Editors
Publisher
Universidad Complutense de Madrid
Abstract
El dolor de origen femoro-patelar (FP) es una de las causas mas frecuentes de dolor en la rodilla, predomina en mujeres adolescentes y adultos jóvenes, aunque globalmente es una de las patologías de mayor prevalencia en las consultas de cirugía ortopédica en todos los rangos etarios. Este dolor tiene su mecanismo fisiopatológico en el aumento de la presión y tensión (estrés) experimentados por la rótula. Existe además una asociación entre el dolor anterior de rodilla (dolor FP) y la artrosis femoro-patelar, siendo el mecanismo que cataliza esta transición de fuerzas elevadas. Estudiar estas fuerzas elevadas que soporta la rótula implica adentrarse en el campo de la biomecánica. La biomecánica de la rodilla ha sido objeto de gran interés tanto para investigadores, como para la industria de los implantes en traumatología a partir de la segunda mitad del siglo XX. Los estudios biomecánicos se desarrollaron a lo largo de este siglo en dos grandes ramas; por un lado los estudios matemáticos, que a partir de la medición de variables (habitualmente en voluntarios) realizan una resolución de un problema, y por otro los experimentales, que buscan una medición directa de las variables habitualmente en cadáveres. Cada uno de ellos va a tener unas ventajas, como en el caso de los matemáticos poder estudiar actividades de la vida diaria, mientras que en los experimentales se obtiene una medición precisa y anatómica de las variables de interés. Igualmente, todos los estudios van a tener algún tipo de limitación, en ocasiones fruto de las limitaciones técnicas y en otras de las limitaciones éticas. Los estudios matemáticos permiten el cálculo de la fuerzas globales que experimenta la rótula en el sentido postero-anterior sin ser capaces de representar la distribución de esta fuerza con en forma de presión articular. Los estudios experimentales por su parte van a permitir bajo las premisas que el investigador aplique obtener mediciones directas de presión de manera precisa con un mapa anatómico. Serán precisamente esas premisas y la medición directa lo que limiten su utilización, al tener una aplicación muy limitada en el individuo vivo y en las actividades de la vida cotidiana...
Patellofemoral (PF) pain is one of the most common causes of knee pain, although it affects predominantly young female patients, it is globally one of the most prevalent pathologies in orthopedic surgery consultations in all age groups. The pathophysiological mechanism of the pain is an increased pressure and stress distribution on the patellar surface. Furthermore, there is an association between anterior knee pain (PF pain) and PF osteoarthritis (OA), being the predisposing factor in the development of OA a continuous exposure of the patella to high forces. Studying the forces acting on the patella, involves entering into the field of biomechanics. The biomechanics of the knee have been a matter of interest to researchers and to the implant industry in Orthopedics since the second half of the 20th century. Biomechanical studies were developed over this century into two major lines: On the one hand, the mathematical studies, which, solve a problem from the measurement of variables (usually in volunteers), and, on the other, the experimental ones, that register a direct measurement of a variables usually in cadavers. Each of them will have advantages, as in the case of mathematical studies being able to study activities of daily living, whereas in the experimental ones, a precise and anatomical measurement of the variables of interest are obtained. Likewise, all studies will have some type of limitation, sometimes due to technical limitations and in others due to ethical implications. Mathematical studies allow the calculation of the global forces acting upon the patella in the postero-anterior direction, without being able to represent the distribution of the articular pressure. The experimental studies on the other hand will allow, under the premises that the researcher applies, a direct measure of the pressure, obtaining an anatomical map. These premises and the direct measurement are precisely the limitation of the application of these studies in volunteers and the introduction of real-life activity parameters...
Description
Tesis inédita de la Universidad Complutense de Madrid, Facultad de Medicina, Departamento de Cirugía, leída el 10-07-2017
Collections