Publication:
Negociación de la identidad en Pedro Páramo, de Juan Rulfo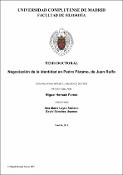 Files
Authors
Advisors (or tutors)
Editors
Publisher
Universidad Complutense de Madrid
Abstract
El objeto central de este trabajo de tesis, al menos en sus inicios, era explorar las posibilidades filosóficas que podía ofrecer un texto literario. Es justo decir que la elección de las lecturas condicionó de manera muy significativa el rumbo del estudio. En primer lugar está el trabajo de Ricoeur y el amplio uso que hace de la literatura y de la narración para fundamentar muchos de los argumentos que utiliza en sus obras. Su idea de identidad narrativa, concretamente, es central en la orientación del trabajo. Por otro lado, está la elección del texto literario mismo. Pedro Páramo es una novela cuya lectura siempre es enormemente fecunda pero que por el penoso destino de sus personajes obliga a torcer la cuestión de la identidad hacia derroteros amenazantes para ésta, cuando no definitivamente destructivos. La lectura combinada de Ricoeur y de Rulfo conducía por lo tanto el tema de la identidad narrativa en una dirección complicada para ella y en la que lo que debía analizarse precisamente era cómo se desenvolvía ésta en el conflicto con el poder. Sin embargo, los primeros intentos de someter la identidad narrativa de Ricoeur a los bretes que la esperaban en Pedro Páramo se dieron de bruces con que la propuesta de Ricoeur era demasiado abstracta y sólida para dar cuenta cabal de las dificultades que acechaban a la identidad de los personajes de la novela. En este sentido se abre paso el tercero de los textos que fundamentan esta tesis. Fuentes del yo de Charles Taylor, reconociendo la tradición de la identidad narrativa en la que se inscribe Ricoeur, proponía un concepto de identidad que se adaptaba muy bien a la fundamentación del filósofo francés a la vez que permitía un uso mucho más dinámico y práctico de la identidad, uno que fuera capaz de reconocer el estado de ésta en los distintos conflictos que enfrentaría en el texto de Rulfo...
The main object of this inquiry was to explore the philosophical opportunities that a literary text has to offer. It is nothing but fair to say that the choice of reading was to determine in a very meaningful way the course of the study. First of all is Ricoeur's work and the rich and broad use he makes out of literature and narration so to base many of his arguments. Actually, his idea of narrative identity is crucial to the orientation of our work. On the other hand, there is the choice of the literary text itself. Reading a novel sucha as Pedro Páramo is certainly a fruitful activity. At the same time, the arduous course of its characters forces to twist the identity issue towards threatening –not to say lethal– paths. Therefore, the combinated reading of Ricoeur and Rulfo lead the identity subject towards a complicated direction, one in which what was precisely to be analyzed was the way the way it got along in its conflict with power. Nevertheless, the first attempts to put Ricoeur's concept of identity down the difficulties that lied in wait in Pedro Páramo were to face the fact that Ricoeur's proposal was too abstract and solid so to report effectively all the predicaments that stalked the character's identities. This is the reason we included the third basement of this work. Charles Taylor's Sources of the Self aknowledges narrative identity's tradition in which Ricoeur is to be found at the time he proposes a concept of identity adaptable to the french philosopher's grounds. Furthermore, his proposal offers a much more dynamic and practical use of identity which is capable to recognise its state all along the different conflicts it has to face during Rulfo's text...
Description
Tesis inédita de la Universidad Complutense de Madrid, Facultad de Filosofía, leída el 05/09/2017
Collections