Publication:
La problématique du libéralisme chez Karl Raimund Popper. Plaidoyer pour une épistémopolitique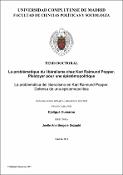 Files
Authors
Advisors (or tutors)
Editors
Publisher
Universidad Complutense de Madrid
Abstract
Cette thèse présentée en vue de ĺobtention du doctorat śinscrit dans une logique de continuité. Elle est le prolongement de nos recherches antérieures en Master intitulées : Ĺidée de Société ouverte chez Karl Raimund Popper. La présente réflexion résulte des écueils liés au désenchantement de la démocratie libérale, qui a du mal à śimplémenter dans certains États contemporains, en particulier ceux de ĺhémisphère sud, à cause des résistances totalitaires. Qúil śagisse du national-socialisme allemand, du parti national fasciste italien, du régime du national catholicisme franquiste espagnol, du régime vichyste français, du stalinisme soviétique, du maoïsme chinois, du régime khmeir rouge, associé au génocide d́un nombre important des membres de la population cambodgienne, des dictatures militaires du Cône-Sud en Argentine, au Chili, en Uruguay, au Brésil, du génocide guatémaltèque et des nombreux gouvernements africains subsahariens impliqués dans des génocides et des répressions très violentes des opposants politiques, ces différentes tendances autoritaires et totalitaires ont abouti à des idéologies et des actions contraires aux droits humains, malgré leurs diversités historiques, stratégiques et leurs particularités culturelles. Les stigmates de cette orgie de brutalités, demeurent encore dans la conscience collective. Ĺinstrumentalisation de la race805 a été dans bien des cas un fait culturel majeur. Ćest la raison pour laquelle, la haine raciale a conduit à ĺextermination des individus qualifiés d́origine impure. De la mise en perspective de ces régimes autoritaires et totalitaires et au regard de ĺactualité ambiante, il y a lieu de śinterroger si ces tragédies d́hier ńont pas survécu dans notre siècle contemporain?...
Esta tesis, presentada para la obtención del doctorado se enmarca en una lógica de continuidad. Es la continuación de nuestra investigación anterior de Máster, que se titula L'idée de "société ouverte" chez Karl Raimund Popper. La presente reflexión resulta de los escollos relacionados al desencanto de la democracia liberal que se integra mal en las costumbres políticas de ciertos Estados contemporáneos, especialmente los del hemisferio sur a causa de resistencias totalitarias. Trátese del nacional-socialismo alemán, del partido nacional fascista italiano, el nacional catolicismo español, régimen de Franco, el régimen francés de Vichy, el estalinismo soviético, el maoísmo chino, el régimen khmeir rojo asociado con el genocidio de un número significativo de miembros de la población de Camboya, las dictaduras militares del Cono Súr en Argentina, Chile, Uruguay, Brasil, el genocidio de Guatemala y muchos gobiernos africanos involucrados subsahariana en el genocidio y la represión muy violenta de los opositores políticos, estas tendencias autoritarias y totalitarias han dado lugar a las ideologías y acciones contrarias a los derechos humanos, a pesar de sus diferencias históricas, estratégicas y particularidades culturales. Los estigmas de esa orgía de brutalidades todavía se quedan en la conciencia colectiva. La instrumentalización de la raza804 ha sido en muchos casos un hecho cultural importante, razón por la cual el odio racial condujo a la exterminación de los individuos tratados de origen impuro. Dadas la puesta en perspectiva de dichos regímenes autoritarios y totalitarios y la actualidad ambiente, cabe preguntarse si aquellas tragedias de ayer no se han proyectado en nuestro siglo...
This Thesis presented for the award of a Ph.D is the prolongation of our previous research in Master's Degree which is entitled respectively: The Idea of the open Society in the Thought of Karl Raimund Popper. The present reflection results from the dysfunctions of neoliberal democracy which, despite the fact that it is a political model today, finds it difficult to integrate itself in the political life of contemporary States, in particular those of the South because of totalitarian resistances. Be them of the german national socialism, the italian fascist national party, the national spanish catholicism, the Franco regime, the french vichy regime, soviet stalinism, chinese maoism, the red khmer regime associated with the genocide of a significant number of members of the population of Cambodia, the military dictatorships of the Southern Cone in Argentina, Chile, Uruguay, Brazil, the genocide of Guatemala and many african governments involved in sub-Saharan Africa in the genocide and very violent repression of political opponents. Gave rise to ideologies and actions contrary to human rights, despite their historical differences, strategic and cultural particularities. The scars of this orgy of brutality are in the collective consciousness. The instrumentalization of race803 has in many cases been an important cultural event, which is why racial hatred led to the extermination of treated individuals of impure origin. Given the perspective of these authoritarian and totalitarian regimes and the current environment, we want to know whether these yesterday's tragedies did not survive in our modern age?...
Description
Tesis inédita de la Universidad Complutense de Madrid, Facultad de Ciencias Políticas y Sociología, leída el 25/10/2017
Collections