Publication:
Capitalismo y sociedad: una lectura republicana de Karl Polanyi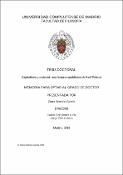 Files
Authors
Advisors (or tutors)
Editors
Publisher
Universidad Complutense de Madrid
Abstract
Karl Polanyi has been one of the most eclectic thinkers, difficult to classify in one unique tradition of thought due to the multiple influences that can be found in his oeuvre. This has contributed to the great variety of interpretations and readings his work can offer, sometimes very diverse, and therefore classified in a diversity of thought. Influenced by Marx and Marxism, the Fabian thinkers, the marginal economy and German sociology, he has been considered sometimes as a Marxist thinker, others as a liberal and as a romantic intellectual too. In the field of anthropology his works have been considered as part of empiricism, institutionalism or functionalism. The aim of this PhD thesis is to defend a reading of Polanyi's work from the tradition of a republican political thought. His criticism of the market society and the economic liberalism is very valuable in order to reflect about the institutional conditions that a society where freedom is possible should have. First of all, my intention is to discuss those readings that make Polanyi a reactionary thinker, whose defense of the anthropologic protectionism would be equal to the defense of the natural communities, affected by the hierarchical and dominance relationships and therefore incompatible with an emancipatory political project that erases the dominance relationships in all social spheres. I will argue that it is precisely Polanyi the one who proposes the anthropologic conditions that no political project can disregard without risking society itself. It is only through these conditions that liberty can be thought. Polanyi's fundamental contribution has been to demonstrate through the anthropological and economic history results of his investigations that market societies are historical exceptions since it is only in them that the economic structure is disassociated from the rest of the social bonds. This provokes serious consequences from an anthropological perspective. However, this proposal does not only have epistemological consequences, it is fundamental for the political thought. The central core, which gives sense to all his work, is the notion of liberty and the material conditions for its practice. This situates Polanyi in the same line of thought of the republican thinkers. The importance that the issue of subsistence has for Polanyi, the concept of substantive economy, the necessity of the embeddedness economy subordinated to the social needs and his double movement theory, have made him one of the fundamental thinkers of the democratic republicanism for contemporary societies. Besides, my intention is to show the link between Marx's thought and Polanyi. Although Polanyi was very critical with the orthodox Marxist doctrines of the Second and Third Internationals, I will argue that Marx's theoretical work has to be considered independently from the dogmas and recipes that future Marxist theorists made of it. Thus, Polanyi and Marx are perfectly compatible and are both inscribed in the tradition of democratic republicanism.
Description
Tesis inédita de la Universidad Complutense de Madrid, Facultad de Filosofía, leída el 06-07-2017
Collections