Publication:
Entre hechos, sujetos y sentidos: el desarrollo de la estructura de participación deliberativa de los consejos de políticas públicas en Brasil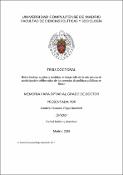 Files
Authors
Advisors (or tutors)
Editors
Publisher
Universidad Complutense de Madrid
Abstract
Después de casi veinte años bajo un gobierno militar, Brasil experimentó una fervorosa multiplicación de movimientos sociales que presionaban por la redemocratización. El período finalizó con una profunda reforma constitucional, que instituyó la participación deliberativa en la estructura administrativa del Estado. A partir de la euforia vivida a finales de los 70 e inicio de los 80 por la organización de los movimientos sociales para la democratización del país, las prácticas dispersas de los distintos modelos de participación, tanto de los Organismos Internacionales como de los sindicatos y de las Comunidades Eclesiales, van a conjugarse para dar lugar a experiencias de consejo que poco a poco van consolidando un modelo concreto de interrelación entre Estado y Sociedad Civil. En Brasil, los actuales consejos gestores de políticas son resultado de la combinación de las experiencias de consejo, popular y estatal (comunitaria). Conforme afirma Carvalho (1995, p. 46), "ni conquista de una sociedad consciente ni concesión de un estado benevolente". Se puede afirmar que el modelo consolidado no estaba inicialmente proyectado. Surgió de un proceso de desarrollo gradual, sistemático, pero no programado. Llevado a la práctica por un lado, por la creciente permeabilidad del Estado a las demandas de sectores sociales hasta entonces excluidos de las agendas públicas, como forma de "compensar" el déficit social existente y por otro por la organización estructurada de las demandas de los movimientos sociales, en este caso especialmente por el Movimiento de la Reforma Sanitaria, que reivindicaban además de las pautas específicas, la democratización de las decisiones, a causa del contexto autoritario vivido...
After almost twenty years under military rule, Brazil experienced a fervent multiplication of social movements pressing for redemocratization. The period ended with a profound constitutional reform, which instituted the "deliberative participation" in the administrative structure of the State. The model, that after it would become worldwide known, emerged by the conjunction of different cyclical elements. It is the result of the combination of two conselllors' types of experiences: the peoplés and the Statés one (community). After the first experiences of deliberative participation, Brazil saw appear a broad and diversified spectrum of spaces of deliberative participation, consolidating a model in the processes of production and execution of public policies. Having as a base the neo-institucionalist historic approach, this research- of qualitative type, with extensive bibliographic and documentary sources – aims to understand which mechanisms contributed to the inclusion of deliberative participation in the administrative structure of the Brazilian State and under which conditions this was possible in order to have the model consolidated and widely disseminated. Our hypothesis is that the adoption of the practice of deliberative participation in Brazil follows a pattern of path dependence, which means that the historical condition in the constituent process determined the socio-political changes in the country. Such reconstitution is important not only by the need to organize the facts and highlight the stakeholders, but primarily to retrieve ideas. To evidence them is an important instrument of political analysis, as allows to the subjects of this historical process understand the present and guide the future, either by confirming the earlier ideas, or transforming them...
Description
Tesis inédita de la Universidad Complutense de Madrid, Facultad de Ciencias Políticas y Sociología, leída el 18-05-2017
Collections