Publication:
Cuerdas en rotación y funciones de correlación en la correspondencia Ads-CFT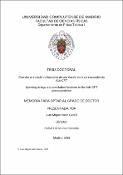 Files
Advisors (or tutors)
Editors
Publisher
Universidad Complutense de Madrid
Abstract
De acuerdo con la formulaci on original de la correspondencia AdS/CFT el l mite de acoplamiento fuerte de una teor a de Yang-Mills en cuatro dimensiones con supersimetr a N = 4 se puede identi car con el l mite de acoplamiento d ebil de la teor a de cuerdas supersim etrica de tipo IIB compacti cada en AdS5 S5, y viceversa. Dicha correspondencia fue posteriormente extendida a otras compacti caciones como AdS4 CP3 y AdS3 S3 M4. Puesto que relaciona teor as a acoplamiento fuerte y d ebil, dicha correspondencia permite acceder al r egimen no perturbativo tanto en una teor a gauge como en una teor a de gravedad. Su demostraci on requiere sin embargo afrontar problemas extremadamente complejos, entre los cuales est an encontrar el espectro completo de la teor a gauge, y cuantizar cuerdas de tipo IIB en un espacio curvo. Las simetr as son una manera muy importante de simpli car los c alculos en dichas teor as. El ejemplo por antonomasia de esto es la simetr a conforme exacta de la teor a de cuerdas en AdS5 S5 y en la teor a de Yang-Mills supersim etrica N = 4, que especi ca completamente la forma funcional de las funciones de correlaci on a dos y tres puntos. Otra simpli caci on importante proviene de la aparici on de esctructuras integrables en la correspondencia. La presencia de estas esctructuras di o lugar a una labor exhaustiva de exploraci on de las dimensiones an omalas de operadores invariantes gauge en el l mite planar y del espectro de energ as de cuerdas en rotaci on en AdS5 S5. El uso de t ecnicas basadas en la integrabilidad proporcionaron importantes exitos e incluso la posibilidad de interpolar entre ambos l mites de la correspondencias en algunos casos concretos...
The AdS/CFT correspondence states that the strong-coupling limit of four dimensional Yang-Mills theory with N = 4 supersymmetry can be identi ed with the weak-coupling limit of type IIB supersymmetric string theory compacti ed in AdS5 S5 and vice-versa. This correspondence was later broadened to other compacti cations like AdS4 CP3 and AdS3 S3 M4. As it relates theories at weak and strong-coupling, it allow us to access the non-perturbative regime of gauge theories and string theories. However its proof requires to face extremely complex problems, e.g. computing the spectrum of conformal dimensions of a gauge theory or quantizing type IIB string theory in a curved background. Symmetries are a powerful way to simplify computations on those theories, the most typical example of which is the exact conformal symmetry of both the type IIB string theory in AdS5 S5 and the N = 4 supersymmetric Yang-Mills theory, which completely xes the functional form of the two and three-point correlation functions. Another important simpli cation is the appearance of an integrable structure in the correspondence. The presence of these structures gave rise to an exhaustive exploration of the planar spectrum of anomalous dimensions of gauge invariant operators and the spectrum of energies of rotating strings in AdS5 S5. Techniques based on integrability reported important successes and even the possibility of performing interpolation between both regimes in some particular cases...
Description
Tesis inédita de la Universidad Complutense de Madrid, Facultad de Ciencias Físicas, Departamento de Física Teórica I, leída el 11-09-2017
Collections