Publication:
Relajación no colisional y a tiempos largos de flujos zonales en dispositivos de fusión toroidales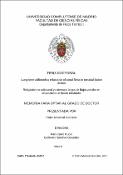 Files
Authors
Advisors (or tutors)
Editors
Publisher
Universidad Complutense de Madrid
Abstract
Los dispositivos más prometedores para la producción de energía de fusión por confinamiento magnético son los tokamaks y stellarators. Aunque estos conceptos han sido estudiados durante décadas, hay cuestiones importantes que siguen sin entenderse. Una de estas cuestiones está relacionada con la degradación del confinamiento debido al transporte turbulento de partículas y energía producido por las microinestabilidades en el plasma. Por lo tanto, la comprensión de la física que se esconde detrás de los mecanismos que controlan estas inestabilidades es de crucial importancia para el desarrollo de futuros reactores de fusión. La reducción del transporte turbulento gracias a la acción de los flujos zonales, tanto en tokamaks como en stellarators, es un fenómeno conocido. Estos flujos están asociados a perturbaciones de potencial electrostático constantes en superficies de flujo y que tienen una estructura radial. Aunque la interacción entre la turbulencia y los flujos zonales es un proceso no lineal, el estudio de su relajación lineal proporciona una información muy útil sobre el problema y es interesante por varios motivos: Desde el punto de vista teórico, el proceso de relajación de una perturbación zonal puede describirse usando ecuaciones precisas y relativamente sencillas; podemos encontrar aproximaciones semianalíticas para entender mejor el problema físico y los resultados de las simulaciones girocinéticas; algunas de las magnitudes asociadas con el problema lineal son relevantes experimentalmente, por ejemplo la frecuencia de oscilación y los tiempos de decaimiento característicos...
The most promising devices for the production of fusion energy in magnetic confinement are tokamaks and stellarators. Although these concepts have been studied for decades there are important issues that remain unsolved. One of these issues is related to the degradation of the confinement due to the turbulent transport of particles and energy produced by the microinstabilities in the plasma. Therefore, understanding the physics behind the mechanisms that control these instabilities is of crucial importance for the development of future fusion reactors. The reduction of turbulent transport by zonal flows, in tokamaks and stellarators, is a widely accepted phenomenon. These flows are associated to electrostatic potential perturbations constant on flux surfaces with a radial structure. Although the interaction between turbulence and zonal flows is a non-linear process, the study of its linear relaxation is interesting for several reasons: From the theory point of view, the relaxation process of a zonal perturbation can be described using accurate and relatively easy equations; we can find semianalytical approximations to gain insight into the physical problem and the results from gyrokinetic simulations; some quantities associated with the linear problem are experimentally relevant, for example the oscillation frequency and characteristic decay times...
Description
Tesis inédita de la Universidad Complutense de Madrid, Facultad de Ciencias Físicas, Departamento de Física Teórica I, leída el 06-07-2017
Collections