Publication:
Responsabilidad patrimonial por "wrongful conception", "wrongful birth" y "wrongful life"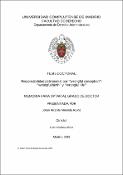 Files
Authors
Advisors (or tutors)
Editors
Publisher
Universidad Complutense de Madrid
Abstract
Este trabajo pretende arrojar ciertas luces respecto de la compatibilidad entre las reclamaciones "wrongful conception", "wrongful birth" y "wrongful life", y el derecho de responsabilidad civil o patrimonial. Es claro, que tanto los avances tecnológicos, la liberalización de las distintas convicciones morales y religiosas, y los distintos cambios de orden cultural, han contribuido en que las reclamaciones de responsabilidad relacionadas con el nacimiento o el mero hecho de vivir, se hayan convertido en uno de los supuestos de hecho relevantes para el derecho de daños; cuestión que no hace mucho tiempo atrás resultaba impensable. Este estudio se enfoca de manera concreta en verificar si de conformidad con los postulados normativos del derecho de daños tanto en el ordenamiento jurídico colombiano como español, las reclamaciones objeto de nuestro estudio resultan compatibles; permitiendo así, identificar las distintas particularidades que en cuanto al tratamiento jurídico y doctrinal reciben estas reclamaciones en un ordenamiento u otro. El enfoque netamente jurídico que recibe este trabajo, rechaza de manera enfática las connotaciones sociales, religiosas y culturales como argumentos determinantes en la resolución de los problemas jurídicos que se evidencian a partir del estudio de estas reclamaciones; connotaciones que de suyo llevan aparejadas estas reclamaciones de responsabilidad; siendo en la realidad de los hechos, tan importantes y determinantes que per se constituyen un obstáculo fundamental para que las mismas puedan resultar relevantes respecto del derecho de daños. Es claro, que la tendencia a vincular la responsabilidad con este tipo de reclamaciones, en gran parte depende del grado de consolidación que puedan llegar a tener en una sociedad las distintas creencias religiosas, morales y éticas, de tal manera que si estas encuentran un grado superior de inherencia respecto de la sociedad muy probablemente la tendencia de dicha sociedad, y por tanto de aquellos quienes administran justicia, se traducirá en el rechazo de estas reclamaciones. En este trabajo se trata de efectuar un análisis jurídico de los distintos cuestionamientos que resultan inherentes a estas pretensiones de responsabilidad; de aquellas dificultades que se relacionan de manera directa con los distintos elementos de la responsabilidad civil. Se efectúa un análisis que se encuentre desprovisto, al menos en la justa medida, de aquellas cuestiones extrajurídicas que no tienen relevancia directa en este estudio, pero que a pesar de ello sí resulta interesante mencionar. La conclusión que finalmente arroje este estudio se especificará en argumentos netamente jurídicos, de tal manera que sean precisamente estos los que finalmente determinen si estas reclamaciones de responsabilidad resultan compatibles respecto del ordenamiento jurídico colombiano y español.
This research pretend to highlight and clairify some points about the compatibility between the complaints "wrongful conception", "wrongful birth" and "wrongful life", and the liability law. Technological advances, the liberalization of the different ethical, moral and religious convictions and current cultural life evolution in our society have contributed to the liability complaints related to the birth or the fact to exist and it have turned into one of the most important facts in this discipline, this idea was unthinkable some time ago. This reasearch try to verify if in accordance with the normative in the Colombian and Spanish legal system, these liability complaints are consistent and also indentify what features are different in the legal and doctrinal senses of this complaints in these two legal systems. The legal approach of this work rule out any social, religious and cultural aspect as principal argument in the resolution of the legal conflict derived from the research of these complaints; it is clear that these aspects in themseleve carry these liability complaints and as result, they are as important that per se constitute an elemental hurdle to be undertaken as relevant for liability law. It is clear, that tendency to link civil liability to these kind of complaints depends strongly on impact of the religious beliefs, ethical and moral rule have in a current society, in a way that, if they have a higher relevance it is probably that society and those who administer justice reject strongly these complaints. This work try to make a legal analysis about the different challenge which are inherent to these liability claims; and also about those issues that are directly related to the differents element into civil liability. We made all this analysis without extra-legal issues that do not have direct relevance in this research, but nevertheless is interesting to consider. The conclusion that finally show and dispose this research will be specified on purely legal ground, in a way that be precisely these arguments which set if these liability complaints are compatible with the Colombia or Spanish legal system.
Description
Tesis inédita de la Universidad Complutense de Madrid, Facultad de Derecho, Departamento de Derecho Administrativo, leída el 06-07-2017
Collections