Publication:
El derecho a la vivienda social digna. Regularización de los asentamientos irregulares consolidados desde la perspectiva de la dignidad y de la eficiencia pública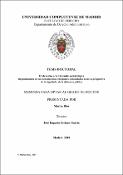 Files
Authors
Advisors (or tutors)
Editors
Publisher
Universidad Complutense de Madrid
Abstract
Esta tesis tiene como centro de investigación la efectividad/eficacia del derecho a la vivienda social digna incluido en el artículo 6º de la Constitución Federal de 1988. En este sentido, los principios de la dignidad humana y de la eficiencia pública, también previstos en la Constitución Federal, sirven como punto de referencia para la investigación y, al mismo tiempo, apuestan a que una lectura sistémica de los derechos sociales fundamentales constitucionales elaborados a partir de estos dos principios puede señalar nuevas direcciones de efectividad. En este contexto, pensar en la eficiencia de la acción pública nos da la oportunidad de distanciarnos de un enfoque económico ampliamente explotado en otras investigaciones. El sesgo económico, a nuestro juicio, puede eclipsar la obligación del Estado de promover y proteger los derechos sociales fundamentales. Por esta razón pensar en la vivienda como un lugar para vivir, como disfrute, señala otra faceta de la baja efectividad de este derecho centrado en el principio de la eficiencia pública. En este contexto, la experiencia brasileña cuenta con la participación de la sociedad en la construcción, promoción y protección de los derechos fundamentales y, por lo tanto, a nuestro juicio, le ofrece a la democracia participativa la base de un proceso que consolida la identidad constitucional, el Estado Democrático de Derecho. La tesis señala como sugerencia la necesidad de crear un consejo de la ciudad con la participación del Estado en los ámbitos ejecutivo, judicial y legislativo, con el sector privado y con la sociedad como una especie de responsabilidad compartida en la ejecución de las políticas públicas de regularización territorial urbana y, por último, en el ámbito judicial sugiere la creación de una jurisdicción especializada en urbanismo que pueda atender las demandas en términos del orden urbanístico elaborado en 2001 por el "Estatuto da Cidade".
The core of investigation of this thesis is the effectiveness/efficiency of the right to decent social housing included in article 6 of the 1988 Federal Constitution. On that purpose, the principles of human dignity and public effectiveness, also foreseen in the Federal Constitution, can be used as a point of reference for investigation and, at the same time, they bet that a systemic reading of the fundamental constitutional social rights created from those two principles is able to point at new effectiveness directions. In that context, thinking about the efficiency of public action gives us the opportunity to pull away from an economic focus widely exploited in other investigations. The economic bias, from our point of view, may overshadow the State"s obligation of promoting and protecting the fundamental social rights. For that reason, thinking about housing as a place to live, as a pleasure, marks another perspective of the low effectiveness of that right that is centered in the principle of public efficiency. In its context, the Brazilian experience counts on the participation of the society building, promoting and protecting the fundamental rights and, on that purpose, it offers participative democracy the basis of a process that consolidates the constitutional identity, the Democratic Rule of Law. The thesis suggests the need to create a city council with the participation of the State at the executive, judicial and legislative levels, the private sector and the society in a kind of shared responsibility for the execution of the public policies regarding the urban territorial regularization and, at the end, at the judicial level, it suggests the creation of a jurisdiction specialized in urbanism that is able to attend to the demands related to the urbanistic order prepared in 2001 by the "Statute of the City".
Description
Tesis inédita de la Universidad Complutense de Madrid, Facultad de Derecho, Departamento de Derecho Administrativo, leída el 13-07-2017
Collections