Publication:
Estudios Críticos del Derecho: visión holística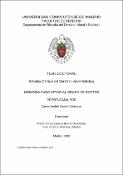 Files
Authors
Advisors (or tutors)
Editors
Publisher
Universidad Complutense de Madrid
Abstract
Los Estudios Críticos del Derecho –Critical Legal Studies o simplemente "CLS"- es un movimiento en teoría jurídica, heredero del Realismo Jurídico norteamericano, conformado esencialmente por profesores norteamericanos de ala izquierda que se nutrió de una diversidad de influencias y fuentes teóricas posmodernistas, que van desde el neo-marxismo o Escuela de Fráncfort hasta llegar a la Epistemología Relativista. La historiografía del movimiento puede dividirse en cuatro fases o etapas a saber, cada una con unas características sustanciales que permiten diferenciarlas claramente. Pese a la concurrencia en muchas de sus críticas y teorías, Critical Legal Studies ha sido un movimiento de naturaleza heterogénea y en continua evolución. Esta escuela del pensamiento ha servido como punto de partida para el nacimiento de otras teorías críticas del derecho de gran interés como la teoría jurídica feminista, la teoría crítica de la raza (CRT) y la teoría crítica latina (LatCrit). Asimismo, al momento de sustentar sus argumentos y críticas, los miembros del movimiento se han apoyado de un amplio abanico de metodologías, entre las cuales merece la pena destacar la demolición o "trashing" y la deconstrucción...
Critical Legal Studies –or simply "CLS"- is a movement in legal theory, heir to the American Legal Realism, consisting essentially of left-wing American professors who drew on a variety of postmodernist theoretical influences and sources ranging from neo-Marxism or Frankfurt School to Relativist Epistemology. The historiography of the movement can be divided into four phases or stages, each one with substantial characteristics that make it possible to clearly differentiate them. Despite the concurrence in many of its critiques and theories, Critical Legal Studies has been a movement of heterogeneous nature and in continuous evolution. This school of thought has served as a starting point for the birth of other legal critical theories of great interest such as the Feminist Legal Theory, Critical Race Theory and Latin Critical Theory (LatCrit). In addition, in order to sustain their arguments and critique, members of the movement have relied on a wide range of methodologies, among which it is worth noting the demolition or "trashing" and the deconstruction...
Description
Tesis inédita de la Universidad Complutense de Madrid, Facultad de Derecho, Departamento de Filosofía del Derecho, Moral y Política I, leída el 07-07-2017
Collections