Publication:
Potestad de planeamiento y garantías jurídicas en España y Brasil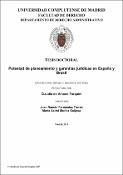 Files
Authors
Advisors (or tutors)
Editors
Publisher
Universidad Complutense de Madrid
Abstract
El objetivo de esta investigación es identificar el régimen jurídico de la potestad de planeamiento urbanístico en Brasil, sus características, límites y formas de control, utilizando la experiencia española como parámetro de interpretación. Esto último se debe a la evidente semejanza entre ambos ordenamientos jurídicos, si bien que en España, a diferencia de lo que ocurre en Brasil, se dispone de un régimen jurídico definido y unos criterios de control indicados de forma precisa tanto por la jurisprudencia como por la doctrina. El trabajo se divide en dos partes: en la primera se examinan los conceptos fundamentales para la ordenación urbana (la ciudad, el Poder Público y el urbanismo), su gestión pública y el papel del Derecho en el proceso urbano, ya sea en lo que respecta a los derechos fundamentales que garantiza a los ciudadanos, o en el establecimiento de las funciones públicas. La segunda parte pone de manifiesto que el urbanismo consiste en una función pública marcadamente discrecional, que, en lo atinente a su ejercicio, límites y control, se subordina a las prescripciones constitucionales y legales, además de impactar en derechos, bienes y valores constitucionalmente consagrados. Por ello, se hace hincapié en la importancia de la definición de sus límites y formas de control, para lo que esclarece de qué forma se desarrolla España, tanto doctrinal como jurisprudencialmente. Por último, sobre la base de dicha experiencia, así como de los mecanismos generales de control de la discrecionalidad de los que ya se hace uso en Brasil, lo que se intenta es la vertebración del régimen jurídico brasileño, con indicación de sus límites y criterios de control.
This thesis aims to identify the legal regime of urban planning in Brazil, its characteristics, limits and parameters of control, using Spanish experience as a model of interpretation due to the similarity between the both legal systems and because in this country there is a very precise regime established by doctrine and jurisprudence. The research has two parts: the first one present the fundamentals concepts of urban order (city, public authority and urbanism), its public management and the role of law in the urban process, from the standpoint of the State as well as a private perspective. The second part describe the urbanism as a discretional public function, subordinate to the Constitutional Law and infra-constitutional regulation, which strongly impacts on fundamental rights and constitutionally protected interests and values. Therefore the study emphasizes the importance of defining its limits and methods of controls, as well clarifies how Spain is doing that. Finally, in basis of this case-law and the Brazilian general mechanisms of control of discretionary administrative activity, this thesis intends to recognize the Brazilian urban planning legal system, its limits and methods of controls.
Description
Tesis inédita de la Universidad Complutense de Madrid, Facultad de Derecho, Departamento de Derecho Administrativo, leída el 25/05/2017
Collections