Publication:
Arqueología y sociedad: interacción y acción desde la teoría crítica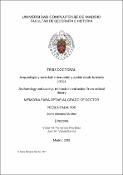 Files
Authors
Advisors (or tutors)
Editors
Publisher
Universidad Complutense de Madrid
Abstract
Gestionar el patrimonio arqueológico es una tarea complicada y burocratizada que bebe de la herencia burguesa del pasado y hoy tenemos que poner en cuestión. Por ello, una disciplina como la arqueología pública nos puede ayudar a entender el modelo que vivimos y, de paso, a articular herramientas de gestión más efectivas para el buen devenir de la arqueología, como ciencia social y como profesión. Esta tesis doctoral tiene por objetivo analizar el concepto de arqueología pública como herramienta de gestión, dotarlo además de un contenido teórico sustentado en la Teoría Crítica de la Sociedad, analizar el contexto socio-económico y político en el que desarrollamos nuestro trabajo como arqueólogos y proponer nuevos modelos de acción a través de la arqueología pública que surtan un impacto positivo en la sociedad. Para ello, se ha seguido un proceso largo de observación y documentación, apoyado por algunos estudios cualitativos, con lo que se identifican algunas problemáticas esenciales que atajar. La tesis se estructura en cuatro partes, que junto con los anexos afrontarán los objetivos marcados. Entre todos ellos, quedará patente cómo la Teoría Crítica puede ser un marco teórico factible para la arqueología (pública), en tanto en cuanto ofrece las herramientas necesarias para cuestionar de forma continua nuestra disciplina. Una de las principales críticas a la arqueología en los últimos años ha sido su desvinculación de la realidad social, económica y política del momento. Si bien esto no es cierto, al haber estado perfectamente articulada con esa realidad, sí ha existido una consciente desligazón de su crítica, enfocando siempre nuestro trabajo al pasado y no al presente. Por eso, las palabras «interacción» y «acción» se refieren a la situación de la arqueología en su lugar histórico como un elemento más del conglomerado social contemporáneo. Así, la arqueología pública nos permitirá definir formas de gestión integradoras y socialmente útiles en un contexto como el actual, pero sobre todo, cambiar el paradigma de gestión de la pasividad actual a una actividad transformadora. En conjunto, esta tesis trata de definir una sociología de la arqueología que analice el sector con un pie fuera, definiendo los límites de la disciplina y sus posibilidades de cara al futuro...
Managing archaeological heritage is a complicated and bureaucratic task that drinks from past's bourgeois legacy which must be called into question nowadays. Hence, a discipline such as public archaeology may help us understand the model we live in and articulate more effective management devices to the good evolvement of archaeology as a social science and as a profession too. This PhD dissertation aims at analysing the concept of public archaeology as a management tool, at endowing it with a theoretical content based on the Critical theory of society, at analysing the socio-economic and political context where we develop our work as archaeologists and at proposing new action models through public archaeology that affect society positively. To do so, a long observation and documentation process has been undertaken, supported with some qualitative studies that identified basic problems to attend. This thesis is organised into four sections that, with the annexes, will delve into the proposed aims. Among all of them, it will be clear how the Critical theory of society can be a feasible theoretical framework for (public) archaeology since it offers the required tools to question our discipline in a continuous way. Recently, one of the main critiques to archaeology has been its disengagement with current social, economic and political reality. Although this is not right, since it has been perfectly articulated with that reality, there has been a conscious mismatch of its critique by always focusing our work on the past, nor the present. Therefore, words such as "interaction" and "action" refer to the situation of archaeology in its historical place as one more element within the contemporary social conglomerate. So, public archaeology will allow us define integrative and socially useful management ways in a context like the current one. But, above anything else, it will allow us change the management paradigm from the current passivity to a transformative activity...
Description
Tesis inédita de la Universidad Complutense de Madrid, Facultad de Geografía e Historia, leída el 15-03-2017
Collections