Publication:
Políticas de inmigración y ciudadanía y el estado dominicano: un desafío de gobernanza democrática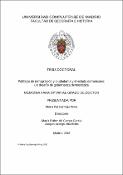 Files
Authors
Advisors (or tutors)
Editors
Publisher
Universidad Complutense de Madrid
Abstract
Esta investigación trata de políticas, instituciones, decisiones y normas. Ésta evoluciona desde una descripción de la migración en el país y de la historia política reciente, continuando con la exploración de marcos conceptuales actuales relacionados con la ciudadanía, migración y el análisis de política pública. En la última parte de la investigación se estudian algunos de los instrumentos clave de la política migratoria actual. Por un lado, se estudian medidas normativas recientes sobre inmigración y por el otro, iniciativas vinculadas de reformas institucionales. República Dominicana es un país donde el Estado ha pasado por un proceso de reformas institucionales y políticas. Éste es un proceso que enfrenta múltiples obstáculos, la mayoría de los cuales emanan de una historia reciente de autocracia, corrupción y exclusión social. Desde 1978 la democracia fue formalmente restaurada, con las primeras elecciones libres después de casi cuarenta años de una de las dictaduras más crueles de la región y una versión suave de la misma en el último periodo. Durante el periodo de la dictadura y un corto periodo después, el Estado intervino directamente en una economía basada mayoritariamente en la industria de la caña de azúcar. Este cultivo había sido una actividad económica tradicional desde la época del gobierno colonial y su cultivo se inició como industria moderna de exportación en la década de los años veinte del siglo pasado, durante la ocupación estadounidense. Esto requería un insumo importante: mano de obra. Para que la industria fuese rentable, este recurso debía garantizarse y la mano de obra de trabajo intensivo que se requería pronto no se pudo encontrar en el país. Tan pronto hubiese otras alternativas para los trabajadores dominicanos, los cultivos de la caña no eran una opción...
This research is about policies, institutions, decision and norms. It starts with a historical and current description of migration in the country and political history, continues to explore current conceptual frameworks concerning citizenship, migration and public policy analysis. In its last part the research studies some key policy instruments as a case study for integration policies and institutional reforms. The Dominican Republic is a country where the State has been going through a process of political and institutional reform since the 1990s. This is a process that faces important challenges, most of which spring from a recent history of autocracy, corruption and social exclusion. Since 1978 the democracy was formally restored with the first free and contended elections after almost forty years of one of the cruelest dictatorships of the region and a later softened version of it. During the time of the dictatorship and a short period afterwards, the State intervened into an economy based, mostly, on the sugarcane industry. The cultivation of this crop had been a traditional economic activity since the times of colonial rule and was initially developed as a modern export industry in the 1920s, during the United States intervention. This required an important input: labor. For the industry to be profitable, this resource needed to be guaranteed and the highly intensive work that sugarcane required was not soon to be found in the Dominican Republic. As there were other options for Dominican workers the State-owned sugarcane crops were not an option...
Description
Tesis inédita de la Universidad Complutense de Madrid, Facultad de Geografía e Historia, leída el 25-09-2017
Collections