Publication:
Aplicación de las técnicas "ómicas" en la búsqueda de genes implicados en patologías alérgicas asociadas a la infección por "Anisakis simplex" s.l.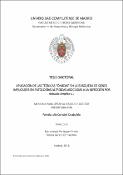 Files
Advisors (or tutors)
Editors
Publisher
Universidad Complutense de Madrid
Abstract
Los procesos alérgicos asociados a la infección por A. simplex s.l. provocan en nuestro país una demanda clínica constante. En los últimos años el diagnóstico y conocimiento de estas entidades clínicas ha aumentado considerablemente, sin embargo existen aspectos asociados a la peculiaridad de su naturaleza aún sin resolver. La infección humana por A. simplex s.l. es una parasitosis accidental en la que se desencadenan reacciones alérgicas como mecanismo de defensa encaminado a la expulsión de la larva. Existen fenotipos clínicos asociados a la infección por Anisakis spp. ampliamente aceptados como la anisakiosis gastroalérgica o la urticaria crónica asociada a la sensibilización a Anisakis spp. Pero además se han descrito casos de asma ocupacional y/o dermatitis de contacto por sensibilización a Anisakis spp. cuya relación está sin elucidar. Además hay una conocida comunidad antigénica entre nematodos y artrópodos, y los alergenos responsables de reacciones cruzadas están sin caracterizar.Por todo ello en la presente memoria se propuso la búsqueda, identificación y caracterización molecular de nuevos alergenos (teóricos y demostrados experimentalmente) de la larva 3 de A. simplex s.l. a través de la aplicación de técnicas "ómicas"...
The allergic reactions associated with the A. simplex s.l. infections cause constant clinical demand in our country. During the last years, both diagnosis and knowledge of the anisakiasis different clinical entities have considerably increased, although they are several aspects associated to the peculiar nature of the disease still unresolved. The human infection by A. simplex s.l. is an accidental parasitosis that triggers allergic reactions as mechanisms for the nematode larvae expulsion. There are several clinical phenotypes associated to Anisakis spp. infection that are largely accepted; for example, gastro-allergic anisakiasis (GAA) or A. simplex s.l. sensitization associated chronic urticaria (CU+). In contrast, occupational asthma and/or contact dermatitis cases by Anisakis spp. sensitization were reported, even though the relationship between the disorders and the nematode has not been explained so far. In addition, there is a big antigenic community, including allergens, non-characterized and shared by both nematodes and arthropods, which are responsible of the frequent cross-reactions observed between the two groups of organisms.Based on this background, the main goal of the present work was the search, identification and molecular characterization of new allergens (theoretical and experimentally demonstrated) from A. simplex s.l. larvae 3, using "omics" approaches...
Description
Tesis de la Universidad Complutense de Madrid, Facultad de Ciencias Químicas, Departamento de Bioquímica y Biología Molecular, leída el 22-06-2017
Collections