Publication:
Caracterización del sistema Ghrelinérgico en Ciprínidos: interacciones con la alimentación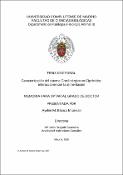 Files
Authors
Advisors (or tutors)
Delgado Saavedra, Mª Jesús
Editors
Publisher
Universidad Complutense de Madrid
Abstract
La ingesta está sometida a un control complejo en el que intervienen numerososreguladores neurales, endocrinos y neuroendocrinos. Entre ellos, la ghrelina, sintetizadaprincipalmente por el estómago, o su equivalente en especies que carecen de él, destaca portratarse de la única hormona periférica de carácter orexigénico descrita hasta el momentoactual. La forma activa de esta hormona requiere la unión de un ácido graso de cadenamedia a la posición 3 de la cadena peptídica que es catalizada por la enzima ghrelina Oaciltransferasa(GOAT), localizada en la membrana del retículo endoplásmico. La acilaciónde la ghrelina es esencial para la unión a su principal receptor, el receptor de secretagogos dela hormona de crecimiento (GHS-R), lo que confiere a la GOAT un papel fundamental parael funcionamiento del sistema ghrelinérgico. En la actualidad, numerosos aspectosestructurales y funcionales de esta enzima permanecen desconocidos, especialmente enpeces.La síntesis y secreción de ghrelina, así como el funcionamiento del sistema ghrelinérgicoen general, están reguladas por diversos factores de naturaleza exógena, como laalimentación, y endógena, incluyendo un control hormonal y un control neural. Laalimentación es el principal regulador del sistema ghrelinérgico en los mamíferos, en los quela ghrelina se considera una señal iniciadora de la alimentación, ya que sus nivelescirculantes se elevan preprandialmente y disminuyen después de una comida. Además, laexpresión y secreción de esta hormona se ven incrementadas tras periodos de privación dealimento de distinta duración, y son reguladas por otros aspectos relacionados con la ingesta,como el patrón de alimentación y la composición de la dieta...
Food intake is subject to a complex control that involves numerous neural, endocrineand neuroendocrine regulators. Among them, ghrelin, synthesized mainly by stomach, or itsequivalent in stomachless species, is particularly important for being so far the onlyperipherally-produced peptide exerting a stimulatory effect on food intake. The active formof this hormone requires the attachment of a medium-chain fatty acid to the third serineresidue of the peptide, which is catalyzed by the enzyme ghrelin O-acyltransferase (GOAT),located in the membrane of the endoplasmic reticulum. The acylation of ghrelin is essentialfor the peptide to bind to its main receptor, the growth hormone secretagogue receptor(GHS-R), conferring GOAT a key role in the functioning of the ghrelinrgic system.Currently, many structural and functional aspects of this enzyme remain unknown,especially in fish.The synthesis and secretion of ghrelin, as well as the functioning of the ghrelinergicsystem in general, are regulated by several exogenous factors, such as feeding, andendogenous factors, including a hormonal and a neural control. Feeding is the mainregulator of the ghrelinergic system in mammals, in which ghrelin is considered to be a mealinitiating signal, since its circulating levels increase preprandially and decrease after a meal.In addition, the expression and secretion of this hormone are increased after periods of fooddeprivation, and are regulated by other aspects related to food intake, such as the feedingpattern and the diet composition. In fish, the possible regulation exerted by feeding on thesynthesis and release of ghrelin has been scarcely investigated, and the few available studiesshow opposite observations in some cases, as occur with the effects of fasting...
Description
Tesis inédita de la Universidad Complutense de Madrid, Facultad de Ciencias Biológicas, Departamento de Fisiología (Fisiología Animal II), leída el 22-01-2017
Collections