Publication:
Impacto de las externalidades en la infraestructura estratégica desde la perspectiva del análisis económico del derecho: el caso de la línea 12 del metro de la Ciudad de México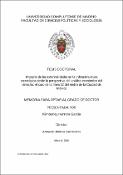 Files
Authors
Advisors (or tutors)
Editors
Publisher
Universidad Complutense de Madrid
Abstract
El objetivo de esta tesis doctoral es analizar el modelo de resolución de externalidades de la construcción de la Línea 12 del Metro de la Ciudad de México, partiendo de la perspectiva del análisis económico del derecho (en lo sucesivo "AED"), como una metodología de investigación novedosa y de creciente utilización en los sistemas judiciales con orígenes en la tradición germánico-romana (civil).La teoría del AED se basa en lo que se conoce como el "teorema de Coase", publicado por el premio nobel de economía, Roland Coase en el artículo publicado bajo el nombre de "The Problem of Social Cost", en 1960.4 La metodología se centra en proponer una solución a las externalidades que implique un menor coste posible para la actividad productiva, a partir dedos mecanismos: la negociación y/o la intervención judicial para reasignar derechos de propiedad. Para que se alcance el objetivo del "mínimo coste posible", la resolución de externalidades no contemplará necesariamente el resarcimiento del daño, sino una mejora relativa de la parte que sufrió el daño, diferenciándose los métodos tradicionales del derecho sobre justicia distributiva...
This thesis tries to advance our understanding of the relationship between law and economics,by critically examining the currently dominant theories on law and economics, as a validmethodology to resolve externalities. First, it explores the main theories in this discipline, thenthe two following chapters analyse the case of Mexico´s city 12 metro line, in the frameworkof the two instruments used by the methodology of law and economics to resolve externalities:frictionless bargaining and the judicial reallocation of rights.The theory of AED is based on what is currently known as the "Coase Theorem", published byRoland Coase, an economist Nobel laureate, in his famous article published in 1960, under thename "The Problem of Social Cost". 1 The methodology used by the theory focuses on twomechanisms: frictionless bargaining and/or judicial intervention to reallocate property rights;the aim in both instruments us to resolve the externalities at the lowest possible cost. In orderto achieve the "lowest possible cost", the solution of the externality does not necessarily includethe compensation for the damages to the party affected; a relative improvement in the party´swho suffered the damage is sufficient to consider it mutually beneficial. This is a differentiatingapproach to traditional methods used by the justice´s principles...
Description
Tesis de la Universidad Complutense de Madrid, Facultad de Ciencias Políticas y Sociología, leída el 06-06-2017
Collections