Publication:
El proceso de descentralización en Ecuador: la transferencia de la competencia de tránsito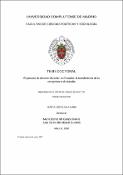 Files
Authors
Advisors (or tutors)
Editors
Publisher
Universidad Complutense de Madrid
Abstract
Para la presente tesis doctoral se optó por el análisis al nuevo proceso de descentralización que, como parte del reordenamiento territorial, se está implementando en el Ecuador a partir de la expedición de la Constitución vigente desde el 20 de octubre de 2008.Ante un proyecto de tal magnitud e impacto se creó todo un Sistema Nacional de Competencias para la articulación interinstitucional entre las entidades del gobierno central y de los niveles de gobierno local, la estrategia territorial y los mecanismos que han de interactuar armónicamente. Con palabras de la ley que regula la materia, el Código Orgánico de Organización Territorial, Autonomía y Descentralización (COOTAD), se define al sistema como: "(…) el conjunto de instituciones, planes, políticas, programas y actividades relacionados con el ejercicio las competencias que corresponden a cada nivel de gobierno guardando los principios de autonomía, coordinación, complementariedad y subsidiariedad, a fin de alcanzar los objetivos relacionados con la construcción de un país democrático, solidario e incluyente"5.El órgano técnico y rector de este sistema es el Consejo Nacional de Competencias (CNC), cuya integración refleja el propósito del legislador y la naturaleza misma de la descentralización, al estar conformado por representantes con capacidad de decisión del gobierno central y de los gobiernos autónomos descentralizados. De acuerdo con la ley orgánica, preside el pleno del Consejo un delegado permanente del Presidente de la República, quien goza de voto dirimente y, por parte, de los gobiernos subnacionales, un representante por cada nivel de gobierno local...
For the present Doctoral thesis, was chosen the analysis to the new decentralization process that, as part of the new territorial order, it is being implementing in Ecuador since the publishing of the current Constitution in 20th October 2008.Facing a project of such dimensions and impact, it was created a whole national system of competences for the interinstitutional articulation between the entities of the central government and those of the local government levels, the territorial strategy and the mechanisms which have to interact harmoniously. Employing the literal of the law which regulates the subject, the Organic Code for the Territorial Organization, Autonomy and Decentralization (Código Orgánico de Organización Territorial, Autonomía y Descentralización, hereinafter, "COOTAD), the system is defined as: "(…) the set of institutions, plans, politics, programs and activities related with the exercise of competences correspondent to each government level maintaining the principles of autonomy, coordination, complementarity and subsidiarity, aiming to reach the objectives related with the construction of a democratic, solidary and inclusive country".1The technical and governing body of this national system is the National Competences Council ("Consejo Nacional de Competencias"), which integration reflects the intention of the legislator and the nature itself of the of the decentralization, as it is composed by representatives with decision making capacity from the central government and from the decentralized autonomous governments. According to the organic law, the Plenary of the Council is leaded by a permanent delegate of the President of the Republic, who has casting vote, and, as per the subnational governments is concerned, a representative for each level of local government...
Description
Tesis de la Universidad Complutense de Madrid, Facultad de Ciencias Políticas y Sociología, leída el 15/03/2017
Collections