Publication:
La Unión Africana, la convivencia entre la fragilidad estatal y el supranacionalismo: análisis político institucional de la integración africana de 2000 a 2016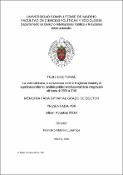 Files
Authors
Advisors (or tutors)
Editors
Publisher
Universidad Complutense de Madrid
Abstract
A escala mundial, la idea de la Unión Africana ya no es aséptica. En realidad cada quien se hace su idea de lo que podría ser la Unión Africana, su presente, su futuro, su verdad fáctica, sus posibilidades, etc. Una maraña de datos demoledores sobre África orientan en ese ejercicio. Tanto en la hemeroteca como en los medios de comunicación, la imagen del continente africano que sobresale es la de un lugar, repleto de Estados fallidos, asolado por la pobreza extrema y endémica, golpeado diariamente por guerras tremendas y otras calamidades de toda clase. Con razón o sin ella, la opinión pública se ha aferrado de manera tajante a esta imagen condenando de antemano cualquier obra o cualquier posibilidad de éxito que emana del continente. La Unión Africana no podía ser menos.Sin embargo, científica y académicamente, ¿deberíamos conformarnos y asumir sin más esa opinión pública? Si en las últimas décadas, se ha estado ensalzando la integración regional o nuevo regionalismo como el vehículo infalible que conduce al desarrollo, ¿no parece contradictorio que no pudiera servir a los países pobres o menos desarrollados, donde precisamente se necesita mayormente ese desarrollo?..
Globally, the idea of the African Union is no longer aseptic. In fact, generally, everyone have his own idea of what could be the African Union, its present, its future, its factual truth, its possibilities, etc. A tangle of demolishing data about Africa may actually guide when that concern is approached. Both in the newspaper, periodical reviews and in the media, the predominant image of the African continent is that of a place full of failed states, ravaged by extreme and endemic poverty, beaten daily by tremendous wars and other calamities of all kinds. Public opinion, rightly or wrongly, has assumed bluntly this image condemning in advance the possibilities of any effort of development or merely any chance of real success emanating from the continent. The African Union could not be less condemned.However, scientific and academically, should we limit us and assume, without any further analysis, that public opinion? If in the last decades, regional integration or a new regionalism has been acclaimed as the infallible vehicle that drives directly to development, does it not seem contradictory that it could not serve the poor or less developed countries, where that development is mainly needed?...
Description
Tesis de la Universidad Complutense de Madrid, Facultad de Ciencias Políticas y Sociología, Departamento de Derecho Internacional Público y Relaciones Internacionales, leída el 15-06-2017
Collections