Publication:
Niveles de actividad física y apoyo social percibido del alumnado adolescente de la provincia de Soria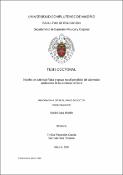 Files
Authors
Advisors (or tutors)
Editors
Publisher
Universidad Complutense de Madrid
Abstract
La práctica de actividad física es un factor del estilo de vida de las personas, que está condicionada por numerosos correlatos de diversas índoles, como por ejemplo, el apoyo social percibido. Además, numerosos estudios han demostrado los beneficios saludables derivados de dicha práctica, si es realizada siguiendo las consideraciones pertinentes.Aunque son numerosos los autores e instituciones internacionales de prestigio que han formulado recomendaciones de práctica de actividad física en función de las características de la población, parece haber un amplio consenso. En el caso de la población adolescente, se aconseja realizar, al menos, 60 minutos diarios de actividad física de intensidad moderada a vigorosa (AFMV).Diversos estudios han demostrado los bajos niveles de actividad física de la población y, en particular, de la adolescente. Esto deriva en una preocupación social por revertir la situación, ante lo cual, esto es la justificación necesaria para implementar programas de promoción de la actividad física...
Physical activity is a lifestyle aspect that is conditioned by numerous factors of various kinds, for example, the level of perceived social support. Furthermore, several studies have demonstrated the health benefits derived from sport, if it is carried out following the relevant considerations.Although there are numerous authors and prestigious international institutions that have produced recommendations about exercise depending on the characteristics of the population, there seems to be a broad consensus. For adolescents, it is recommended that they carry out at least 60 minutes of moderate to vigorous exercise per day (MVPA).Various studies have shown low levels of physical activity among the population, especially adolescents. This has led to a social preoccupation to reverse the situation, and this is the justification necessary to implement programmes promoting physical activity...
Description
Tesis de la Universidad Complutense de Madrid, Facultad de Educación, Departamento de Expresión Musical y Corporal, leída el 21/03/2018
Collections