Publication:
Ética dialógica y responsabilidad social de la empresa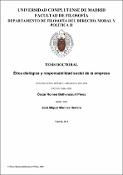 Files
Authors
Advisors (or tutors)
Editors
Publisher
Universidad Complutense de Madrid
Abstract
La presente investigación pretende analizar como objetivo principal las claves conceptuales de la responsabilidad para un sujeto actual que se pueda regir a partir de un imperativo ontológico en su acción como un "hacerse cargo de la realidad" en el ámbito de aplicación de la Responsabilidad Social Corporativa (RSC) en España. Para ello nos marcaremos dos caminos. Por un lado, trazaremos un marco teórico que contribuya a impulsar una nueva cultura de sostenibilidad empresarial, abordando la idea de la RSC desde el marco de la ética dialógica de Paul Ricoeur. Durante ese camino diseñaremos un marco conceptual sobre la ética de la empresa para fundamentar el concepto de responsabilidad social como despliegue de una ética que responda a la realidad humana y social. Y, por otro lado, investigaremos la situación real de la RSC en España por medio del discurso de veinte empresarios. Para esta propuesta trabajaremos con un método de investigación teórico-empírico que pueda aunar el marco conceptual de la primera parte para confrontarlo con el análisis de mirada cualitativa de los veinte sujetos que serán entrevistados. De este modo, el marco teórico configurará el universo de la responsabilidad desde un análisis gnoseológico sobre todos los conflictos y debates en los que se encuentra. Nuestra misión será unir todas las partes analizadas para descubrir sus relaciones y características fundamentales sobre la idea de la responsabilidad como un complemento moral (ética) de la naturaleza ontológica (ser) de nuestro ser temporales (tiempo). En la segunda parte contaremos con la herramienta de "la entrevista cualitativa" (o enfoque cualitativo). Su procedimiento estará estructurado del siguiente modo: (1) Análisis de datos secundarios. Elaboraremos un marco conceptual ético-filosófico, así como una descripción de la realidad normativa y las experiencias de buenas prácticas de la aplicación de la RSC en España. (2) Trabajo de campo. Seleccionaremos veinte empresas que posean un claro ejercicio de la RSC como compromiso económico-social-medioambiental hacia sus grupos de interés. (3) Diseño. La guía de la entrevista será de enfoque cualitativo. Nos ayudará a orientar la conversación sobre las claves motivadoras y desmotivadoras ante la RSC. Sus preguntas serán de tipo prueba-hipotética. (4) Recopilación de respuestas a partir de la entrevista cualitativa. (5) Análisis y vuelco de la información recopilada. (6) Realización de un informe que recoja de forma didáctica los consejos y/o valores que han expresado los sujetos entrevistados. Como conclusiones de esta esta investigación podríamos destacar los siguientes apartados: En primer lugar, hemos visto oportuno proponer un escenario ético para una clase de ética empresarial. De ahí que nuestra propuesta se encamine hacia la presentación de un esquema ético-dialógico recomendable. En segundo lugar, nuestro camino encontrará comodidad en la línea propuesta por Paul Ricoeur sobre lo que llamaremos "la pequeña ética", ya que se fundamenta en la aptitud de reconocernos capaces de "dar cuenta narrativamente". Ésta será la idea esencial de responsabilidad que habitará en toda nuestra investigación. En tercer lugar, la idea de la pequeña ética la escenificaremos dentro de la propuesta de la ética dialógica, o ética del diálogo. En cuarto lugar, nuestro abordaje a la responsabilidad partirá del estudio realizado por Paul Ricoeur desde su lectura de antropología filosófica y hermenéutica. Esta propuesta nos permitirá ver el concepto de responsabilidad como phrónesis en sentido puramente aristotélico. Y en quinto lugar, todo lo anterior nos llevará a interesantes conclusiones sobre el universo actual de la RSC en España como un concepto que nos abre camino. Nuestra exposición intuye un posible camino hacia una nueva forma de hacer la economía desde parámetros más dialógicos y responsables.
This research aims to analyse, as its main objective, the key concepts of responsibility within the current subject, which can govern from an ontological imperative its action as "dealing with the reality" within the scope of the Corporate Social Responsibility (CSR) in Spain. To do this we will explore two avenues. On the one hand, drawing a theoretical framework that contributes to promoting a new culture of sustainable business, addressing the idea of CSR from within the framework of the Dialogic ethics of Paul Ricoeur. During that process we will design a conceptual framework around the ethics of a company when substantiating the concept of social responsibility as deployment of an ethics that responds to its human and social reality. And on the other hand, we will investigate the current situation of CSR in Spain through the testimony of 20 entrepreneurs. For this proposal we will work with the theoretical-empiric method of research that will combine the conceptual framework from the first part of the proposal in order to confront it with the analysis of the qualitative view of the twenty subjects interviewed. Thus, the theoretical framework will set up the world of responsibility from an epistemological analysis of all the conflicts and debates in which is located. Our mission will be join all the parts analysed in order to discover the relationship between the two, and feature fundamentals on the idea of the responsibility as a moral complement (ethics) of the ontological nature (being) of our temporary being (time). In the second part we will use the "the qualitative interview" tool (or qualitative approach). The procedure will be structured in the following mode: 1. Secondary data analysis. Develop a conceptual ethical-philosophical framework, as well as a description of the normative reality, and the experiences of good practices of the application of the CSR in Spain. 2. Field work. We will select twenty companies possessing a clear practice of CSR as a commitment to socio-economic-environmental for its stakeholders. 3. Design. The trajectory of the interview will be in "qualitative focus". This will help to guide the conversation towards the key motivating and demotivating factors around RSC. The questions will be hypothetical-test type. 4. Compilation of answers from the qualitative interviews. 5. Analysis and turning over of the information collected. 6. Realisation of a report that collects the advice and/or values that the subjects interviewed have expressed. As a final conclusion to this research, we could highlight the following sections. Firstly, it is an opportune moment to propose an ethical scenario for a class of business ethics. Hence our proposal is routed towards the presentation of a recommended "Ethical-Dialogic" scheme. Secondly, our road will find comfort in the line proposed by Paul Ricoeur on what we will call "the small ethics" (petite etique), since it is based in the propriety of recognizing that we are capable of "realising". This will be the essential idea of responsibility that dwells in all our research. Thirdly, we will show the idea of "small ethics" within the proposal of the dialogical ethics, or ethics of dialogue. Fourthly, our approach to liability will depart from the study made by Paul Ricoeur, from his reading of philosophical and hermeneutical anthropology. This proposal will allow us to see the concept of responsibility as phronesis in the purely Aristotelian sense. Finally, the previous will lead to interesting conclusions on the current world of CSR in Spain as a concept that opens us towards hope. Our discovery senses a possible path toward a new way of doing business with more Dialogic and responsible parameters.
Description
Tesis de la Universidad Complutense de Madrid, Facultad de Filosofía, Departamento de Filosofía del Derecho, Moral y Política II, leída el 23/02/2018
Collections