Publication:
Versión cefálica externa: una técnica eficaz, segura y eficiente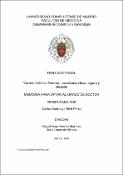 Files
Authors
Advisors (or tutors)
Editors
Publisher
Universidad Complutense de Madrid
Abstract
La versión cefálica externa se define como el procedimiento médico por el cual, mediante la aplicación de presión y maniobras sobre el abdomen materno, se puede conseguir la transformación en cefálica de cualquier otro tipo de presentación, con el fin de poder afrontar un intento de parto vaginal en cefálica. La realización de esta técnica con algún tipo de anestesia reduce el dolor de las maniobras y favorece su éxito, entendido este como la transformación de la presentación en cefálica. Las alternativas a la versión cefálica externa son el parto de nalgas, que asocia mayor morbi-mortalidad neonatal que un parto en cefálica y la cesárea programada, que supone mayor morbilidad materna y coste económico que un parto vaginal. Esta tesis pretende demostrar que la versión cefálica externa es un procedimiento eficaz para reducir la tasa de presentaciones no cefálicas a término y para aumentar la tasa de partos vaginales en gestaciones con presentación podálica a término reduciendo la tasa de cesáreas, segura en cuanto a complicaciones y pronóstico neonatal y eficiente en la reducción de costes con respecto a la cesárea programada. Además, se pretenden evaluar las diferencias entr
External cephalic version is a medical procedure by which turn of non-cephalic presentation into cephalic is achieved, by applying maneuvers on the mother's abdomen. Its objective is to confront an attempt of vaginal cephalic birth. The accomplishment of this technique with some kind of anesthesia reduces pain of the maneuvers and favors its success. Success of external cephalic version is defined as the transformation of the fetal presentation into cephalic. Alternatives to external cephalic version are breech delivery, which associates greater neonatal morbi-mortality than cephalic delivery, and an elective cesarean section, which implies greater maternal morbidity and economic costs than vaginal delivery. Present study aims to demonstrate that external cephalic version is an effective procedure to reduce the rate of non-cephalic presentations at term and increase the rate of vaginal deliveries in pregnancies with breech presentation at term reducing the rate of cesarean sections, with a low rate of complications, with an excellent neonatal prognosis and cost-effective or efficient when we compare it with planned cesarean sections. In addition, we intend to evaluate differences between two anesthetic procedures (sevoflurane and spinal anesthesia) and the learning curve of external cephalic version...
Description
Tesis de la Universidad Complutense de Madrid, Facultad de Medicina, Departamento de Obstetricia y Ginecología, leída el 24-05-2017
Collections