Publication:
Impacto de las nuevas recomendaciones de la Comisión Internacional en Protección Radiológica en las prácticas intervencionistas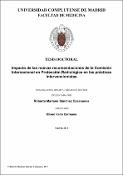 Files
Advisors (or tutors)
Editors
Publisher
Universidad Complutense de Madrid
Abstract
En el año 2012 la Comisión Internacional de Protección Radiológica publicó el documento número 118 que contenía la "Declaración sobre las reacciones de los tejidos / Efectos de la radiación tempranos y tardíos en tejidos y órganos – Dosis Umbral para reacción de los tejidos en un contexto en protección radiológica". En dicho documento se estableció un umbral de dosis de radiación de 0,5 Gy en cerebro o en corazón para producir enfermedad circulatoria. También redujo a 0,5 Gy la dosis umbral en cristalino para producir cataratas. En el caso del cristalino, además la ICRP ha recomendado una reducción del límite de dosis para los trabajadores a 20 mSv/año promediando en periodos de 5 años, sin que se excedan los 50 mSv en un único año. Dicha recomendación ya ha sido incorporada a la normativa europea a través de la directiva 2013/59/EURATOM. En los procedimientos intervencionistas guiados por fluoroscopia, puede ser necesario usar altas dosis de radiación. La dosis recibida en la piel de los pacientes ha sido y sigue siendo objeto de estudio, demostrándose que en los casos más complejos o en pacientes que han requerido sucesivos procedimientos en su tratamiento, se han producido lesiones en la piel de diversa gravedad. En el caso de los trabajadores, el cristalino ha sido también objeto de investigación, observándose mayor probabilidad de desarrollar opacidades en cristalino en los profesionales del ámbito intervencionista. Tras la publicación de la declaración sobre reacciones en tejidos por parte de la ICRP, además de la dosis en la piel de los pacientes, se ha considerado conveniente estimar las dosis que pueden recibir en cerebro o cristalino. En el caso de los trabajadores, es necesario investigar si el nuevo límite de dosis en cristalino puede suponer la necesidad de reforzar la protección para seguir trabajando en condiciones de seguridad. Por otro lado, la evolución de estas prácticas durante los últimos años, si bien está posibilitado el abordaje de patologías más complejas, requiere utilizar mayores cantidades de radiación, siendo necesaria una evaluación continua de los riesgos radiológicos y de las estrategias de optimización. Esta tesis doctoral describe la metodología y resultados de la evaluación de las dosis de radiación administradas en cerebro y cristalino a los pacientes sometidos a procedimientos de neurorradiología intervencionista, describe también las ventajas de un programa de cálculo elaborado para estimar la dosis que recibe la piel de los pacientes sometidos a procedimientos de cardiología intervencionista y por último evalúa las dosis recibidas en el cristalino de los profesionales...
In 2012, in report 118, the International Commission on Radiological protection included the "ICRP Statement on tissue reactions / Early and late effects of radiation in normal tissues and organs - Threshold doses for tissue reactions in tissues in a radiation protection context". In that document, a threshold dose of 0.5 Gy was established for risks of brain and heart circulatory diseases. The threshold dose for eye lens injure was also reduced. In the case of eye lens, ICRP recommended a reduction of the current dose limit for workers to 20 mSv/year averaged over five years, with less than 50 mSv/year. This recommendation has been currently included in the European legislation in directive 2013/59/EURATOM. In fluoroscopy guided interventional procedures, high radiation doses may be needed. Radiation doses delivered to patients' skin remain a topic of continued investigation in radiation safety and it has been shown that in the most complex procedures or in patients whose treatments require several procedures, radiation doses may cause skin injuries with varying degrees of severity. In case of professionals, the eye lens have been also investigated, and a higher likelihood of developing eye lens opacities has been observed in interventional professionals. Following the ICRP statement on tissue reactions, it was considered necessary to estimate not only the skin dose received by patients, but also the doses received by brain and eye lenses. In the case of workers, it is necessary to investigate if the new dose limit for the lens of the eyes requires new protective measures to ensure the safest working conditions for staff. The evolution of the interventional practices on one hand makes it possible to treat more complex pathologies, but on the other hand requires higher amounts of radiation, which requires an ongoing assessment of the radiological risks and therefore optimization strategies. This thesis describes the methodology and results of the evaluation of radiation doses delivered to the brain and eye lenses of patients who underwent interventional procedures in neuroradiology; it also describes the advantages of a computational program to estimate patients' skin doses in interventional cardiology and it finally evaluates the eye lens doses in interventionalists...
Description
Tesis de la Universidad Complutense de Madrid, Facultad de Medicina, leída el 04/05/2017. Tesis formato europeo (compendio de artículos)
Collections