Publication:
Validación externa del AuroSCORE II en pacientes octogenarios intervenidos de recambio valvular aórtico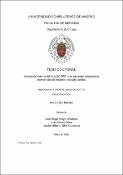 Files
Authors
Advisors (or tutors)
Editors
Publisher
Universidad Complutense de Madrid
Abstract
La relevancia de la estenosis aórtica es enorme, tanto por su gran prevalencia como por el pronóstico ominoso que su presencia implica. Hasta hace pocos años, la cirugía de recambio valvular aórtico era el único tratamiento que había demostrado cambiar la historia natural de esta enfermedad. Sin embargo, en el año 2002 se realiza el primer implante de una prótesis aórtica de forma percutánea. Este tipo de procedimientos han demostrado ser comparables a la cirugía en cuanto a la supervivencia a cinco años en pacientes considerados de moderado y alto riesgo quirúrgico.En las últimas décadas han aparecido múltiples escalas de riesgo que han sido ampliamente utilizadas en los servicios de cirugía cardiaca. El EuroSCORE I (EuropeanSystem for Cardiac Operative Risk Evaluation) fue publicado en 1999 y ha presentado gran popularidad como sistema de predicción del riesgo quirúrgico en cirugía cardiaca. Los cambios en las técnicas quirúrgicas y en el manejo postoperatorio introducidos desde su publicación, han permitido un descenso en la mortalidad que ha podido invalidar este sistema predictivo.Con la idea de actualizar el modelo se publica en enero de 2012 el EuroSCORE II. Sus autores defienden que el actual sistema posee una mejor capacidad predictiva. Sin embargo, numerosos trabajos han demostrado que en pacientes de alto riesgo esta escala infraestima el riesgo quirúrgico...
The relevance of the aortic stenosis is enormous, both because of its high prevalence and because of its ominous prognosis. Until a few years ago, open surgery for aortic valve replacement was the only treatment that had been shown to change the natural history of this disease. However, in 2002, the first implantation of apercutaneous aortic prosthesis was performed. This type of procedure has shown tobe similar to surgery at five-year follow up in moderate and high-risk surgical patients. During the last decades there have been multiple risk scores for cardiac surgery procedures. The EuroSCORE I (European Cardiac Operating Risk Assessment System) was published in 1999 and has become widely popular as a predictor system of surgical risk in cardiac surgery. Changes in surgical techniques and postoperative management introduced since its publication have shown to invalidate this predictive system. With the idea of updating and improving the EuroSCORE I, its second version (EuroSCORE II) was published in January 2012. The authors of this model defended that this system had a better predictive capacity. However, numerous studies have shown to underestimate the real surgical risk for high-risk surgical patients...
Description
Tesis de la Universidad Complutense de Madrid, Facultad de Medicina, Departamento de Cirugía, leída el 18/09/2017
Collections