Publication:
Mortalidad debida a enfermedades raras en Europa: enfermedad de Huntington, ataxias hereditarias y enfermedades de la motoneurona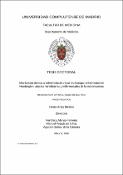 Files
Authors
Advisors (or tutors)
Editors
Publisher
Universidad Complutense de Madrid
Abstract
La Unión Europea ha definido a las Enfermedades Raras (ER) como aquella afección con riesgo vital o crónica debilitante con una prevalencia inferior a 5 casos por cada 10000 habitantes. Las características propias de estas enfermedades determinan ciertas dificultades en su investigación epidemiológica, asociadas al bajo número de casos, el alto grado de complejidad diagnóstica y su difícil identificación en los sistemas de información sanitaria, al utilizar clasificaciones orientadas a enfermedades más comunes. Dentro de las ER, el grupo de las afecciones del sistema nervioso presenta gran interés debido a que son de las más prevalentes. Además, se ha descrito un incremento de las enfermedades neurológicas en la población, pero estos estudios se centran en enfermedades comunes y no en las raras. Por otro lado, la mortalidad es un importante indicador de salud, siendo su reducción el objetivo de cualquier política de intervención en salud pública. Las tasas de mortalidad son monitorizadas a nivel local y nacional mediante indicadores específicos y obligatorios que miden la situación de salud de país. La unión de los datos de mortalidad procedentes de varios países puede contribuir a la mejora del conocimiento de las ER, al considerar series con mayor número de casos. Consecuentemente, el análisis de la mortalidad referente a ER neurológicas a escala europea puede aportar información de utilidad para conocer la situación actual de estas patologías...
The European Union has defined Rare Diseases (RD) as a life-threatening or chronically debilitating diseases with a prevalence of less than 5 cases per 10,000 inhabitants. The features of these diseases shape certain difficulties in their epidemiological research, related to a low number of cases, complex diagnostics and difficulty being identified in health information systems which use classifications more oriented to common diseases. Those nervous affecting system RD's are of great interest because they are one of the most prevalent ones. Moreover, it has been described an increase of neurological diseases among the population, but these studies are usually focus on common diseases, rather than on the rare ones. On the other hand, mortality is a remarkable indicator of health and its reduction is the goal of any policy of intervention in public health. Mortality rates are locally and nationwide monitored by way of specific and mandatory indicators which provide a measure on the health status of each country. The collection of mortality data from several countries may contribute to the improve the RD knowledge, by considering series with larger number of cases. As a result, the mortality analysis concerning neurological RD at European level can provide useful information for understanding the current situation of these pathologies...
Description
Tesis de la Universidad Complutense de Madrid, Facultad de Medicina, Departamento de Medicina, leída el 27/09/2017
Collections