Publication:
Modelado integrativo de la estructura 3D de macromoléculas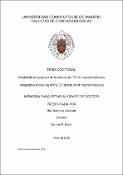 Files
Authors
Advisors (or tutors)
Editors
Publisher
Universidad Complutense de Madrid
Abstract
El estudio de la estructura de las biomoléculas es fundamental para entender la vida desde un punto de vista molecular. Los métodos directos usados para resolver la estructura de complejos macromoleculares, como la cristalografía de rayos X, están llegando a su límite y el futuro se está abriendo paso para resolver dichas estructuras mediante la integración de datos provenientes de distintas técnicas.El objetivo de esta Tesis ha sido desarrollar métodos integrativos para resolver estructuras de complejos macromoleculares. Se han desarrollado dos métodos, uno dirigido a determinar la conformación de complejos multiproteicos y otro para inferir la estructura de la cromatina de distintas regiones del genoma.El primer método se utilizó para resolver la arquitectura del exocyst, un complejo multiproteico compuesto por 8 proteínas de forma alargada, responsable de fusionar vesículas secretoras a la membrana plasmática. El exocyst ha sido difícil de purificar hasta ahora, y, por ello, ha sido difícil resolver su estructura atómica mediante técnicas convencionales como cristalografía de rayos X o resonancia magnética nuclear. El método combina la información estructural de cada subunidad con las distancias entre ellas obtenidas mediante microscopía óptica. Estas distancias, medidas entre distintos fluoróforos fusionados a los extremos amino y carboxilo terminal de cada subunidad, se usan como restricciones espaciales para resolver la estructura. Nuestra herramienta, gracias a algoritmos optimizadores, genera modelos tridimensionales (3D) del exocyst que cumplen las restricciones impuestas. Mediante el análisis de la población de los mejores modelos, se propuso un modelo representativo...
Structure is key to a molecular understanding of life. This is why in the past 50 years or so,molecular biologists have solved so many structures of macromolecules. However, direct solvingof the structure of macromolecular complexes by conventional methods such as x-raycrystallography, has shown its limits and the future is going towards the integration of diverse information to elucidate such structures.The aim of these thesis has been to develop integrative methods to elucidate the structure of macromolecular complexes. Two methods have been developed, one aimed at modeling multiproteinstructures and the other for chromatin structure.The first method was applied to uncover the architecture of the exocyst, a multi-proteincomplex composed by 8 "rod-like" shaped subunits, which is responsible for binding secretory vesicles to the plasma membrane. The exocyst has been difficult to purify, resulting in difficulties to elucidate its atomic structure by mainstream methods such as X-ray crystallography or nuclearmagnetic resonance (NMR). The method we developed combines structural information of each subunit with distances between subunits termini derived from light microscopy. These distances were measured between different fluorophores fused to the N and C termini of each subunit,which were afterwards used as spatial restraints towards solving the structure. Our tool then integrates these data and uses optimization algorithms to generate 3D models of the complex. Analysis of the population of models that best fulfill the input data allowed us to propose a representative structure...
Description
Tesis de la Universidad Complutense de Madrid, Facultad de Ciencias Biológicas, leída el 25-05-2018
Collections