Publication:
El carisma en la comunicación en público de los dirigentes empresariales: un modelo de análisis a partir del desarrollo conceptual del liderazgo carismático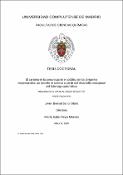 Files
Authors
Advisors (or tutors)
Editors
Publisher
Universidad Complutense de Madrid
Abstract
Esta investigación surge con el propósito de determinar en qué consiste el carisma al hablar en público, y con la intención de analizarlo en las intervenciones delos líderes empresariales españoles. Establecemos cuatro hipótesis: es posible objetivar los componentes de la comunicación carismática; la comunicación carismática se puede evaluar, a partir de la medición de sus componentes; es posible desarrollar la transmisión de carisma de los dirigentes empresariales, a través de la mejora en los componentes de la comunicación carismática; y la comunicación en las comparecencias públicas de los líderes de las mayores corporaciones empresariales en España requiere necesariamente la mejora de los componentes de su comunicación carismática. Para verificar nuestras hipótesis, buscamos en primer lugar determinar el significado del concepto de carisma. Para ello, partimos del análisis del carisma desde su génesis en la Grecia antigua, donde se relacionaba con la belleza y con el intercambio de regalos. A continuación, estudiamos el uso del concepto que hace Pablo de Tarso, como identificador de los regalos del Espíritu o charismata que unen a los primeros cristianos, en una comunidad en la que esosregalos son el cemento que los hermana. El concepto de carisma prácticamente desaparece al tiempo que la Iglesia se expande como organización, con la burocracia inherente al crecimiento de cualquier gran organización, que relega a un segundo plano los regalos del Espíritu...
This research seeks to identify charisma in public speaking, and to analyze it in the discourse of the top business leaders in Spain. We set out four hypotheses: it ispossible to detail the components of charismatic communication; charismatic communication can be evaluated, based on the measurement of its components; the charismatic communication of business leaders can be trained, through the improvement of the components of charismatic communication; and the charisma of the leaders of the largest Spanish companies can be improved in the components of their charismatic communication. To verify our hypotheses, we first search to determine what charisma is, taking off from its origins in Ancient Greece, where it was related to beauty and to the exchange of gifts. Next, we study the use of the concept by Paul of Tarsus, as gifts of the Spirit or charismata that bound the first Christians together in a community in which those gifts formed the cement of their union. The concept of charisma practically disappeared as the Church expanded. The bureaucracy inherent to the expansion of any large organization made the gifts of the Spirit irrelevant...
Description
Tesis de la Universidad Complutense de Madrid, Facultad de Ciencias Químicas, leída el 11/11/2018
Collections