Publication:
Physico-chemical properties of the atmospheric aerosols in urban and rural areas in southern Europe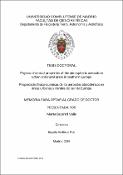 Authors
Advisors (or tutors)
Editors
Publisher
Universidad Complutense de Madrid
Abstract
Some of the properties that play a relevant role in the understanding of processes related to the formation and evolution of particles once they have been emitted into the atmosphere and their source apportionment are still poorly known. Chemical composition is a fundamental aerosol property that determines not only its physico-chemical behavior and its effects on air quality and human health,but also plays a determining role in optical properties having important consequences on Earth's radiative balance by scattering and absorbing sunlight and modifying cloud characteristics. In order to develop effective strategies for the prevention, control and abatement of particulate pollution, the major emission sources and processes leading to aerosol formation in the atmosphere need to be identified and characterized. This thesis is aiming to characterize major ambient aerosol compounds and their time evolution linked to variations in aerosol sources and meteorology conditions. Different geographical and emission scenarios have been studied in an urban background area of Madrid, a trac site located in that city and a station placed in a rural area of the south of Spain. These three sites can be representative of urban and rural areas in Southern Europe, with similar natural and anthropogenic features. An important contribution of this thesis is the experimental approach and instrumental techniques used to characterize the aerosol composition that represent the state-of-the-art on worldwide aerosol studies. These techniques are based on an Aerosol Chemical Speciation Monitor(ACSM) and an Aethalometer...
Algunas de las propiedades que desempeñan un papel relevante en el conocimiento de los procesos relacionados con la formación y evolución de partículas una vez emitidas a la atmósfera y sus fuentes, están aún por conocer. La composición química es una propiedad fundamental del aerosol que determina no solo su comportamiento físico-químico y sus efectos en la calidad del aire y la salud humana, sino que también es determinante en las propiedades ópticas con importantes consecuencias en el balance radiativo terrestre dispersando y absorbiendo luz solar, y modificandolas características de las nubes. Para desarrollar estrategias efectivas de prevención, control y reducción de la contaminación atmosférica, es necesario identificar y caracterizar las principales fuentes de emisión y procesos que conducen a la formación de aerosoles en la atmósfera.Esta tesis tiene como objetivo caracterizar los principales componentes químicos del aerosol atmosférico y su evolución temporal relacionada con las distintas fuentes de aerosoles y condiciones meteorológicas. Se han estudiado diferentes escenarios geográficos y de emisión en una estación de fondo urbano y una estación de tráfico localizadas en Madrid y una estación situada en una zona rural del sur de España. Estos tres sitios pueden ser representativos de áreas urbanas y rurales del surde Europa, con características naturales y antropogénicas similares. Una importante contribución de esta tesis es la aproximación experimental y las técnicas instrumentales utilizadas para caracterizarla composición de los aerosoles, que representan el estado del arte actual a nivel mundial en estudios de aerosoles. Estas técnicas se basan en el uso de un Aerosol Chemical Speciation Monitor (ACSM)y un Aethalometro...
Description
Tesis de la Universidad Complutense de Madrid, Facultad de Ciencias Físicas, Departamento de Física de la Tierra, Astronomía y Astrofísica, leída el 08-06-2018
Collections