Publication:
Estudio del estado de maduración del linfocito B y factores solubles asociados a rechazo e infección en pacientes sometidos a trasplante de órgano sólido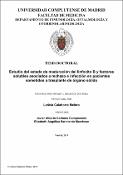 Files
Authors
Advisors (or tutors)
Editors
Publisher
Universidad Complutense de Madrid
Abstract
El trasplante de órganos es la opción terapéutica de elección cuando se han agotado el resto de alternativas. Tras la intervención, el sistema inmunitario del receptor puede reaccionar frente a antígenos del donante causando rechazo. Para evitarlo, se recurre al uso de inmunosupresores que acaban provocando un mayor riesgo de desarrollo de infecciones y neoplasias de novo. En concreto, las complicaciones infecciosas son la principal causa de muerte durante el primer año post trasplante. Hasta ahora el principal foco de estudio en medicina del trasplante se ha centrado en la rama efectora CD3+, hay pocos estudios sobre linfocitos B y se centran en su papel como célula productora de anticuerpos. La célula B, en trasplante de órganos, no se limita a célula plasmática sino que posee funciones reguladoras mediante producción de diversas citoquinas, como IL-10, IL-35 o TGF-β. La depleción de estas poblaciones podría tener un efecto negativo en los pacientes, ya que se producen alteraciones en la homeostasis celular. El restablecimiento del compartimento B podría favorecer un perfil inmunorregulador que facilitaría el control del eje regulador/ inflamatorio en trasplante de órganos. La monitorización inmunológica postrasplante es de vital importancia para reducir la morbimortalidad, evaluando el estado del paciente durante el periodo de seguimiento para la detección temprana de eventos de rechazo o infección. El objetivo es conseguir una terapia individualizada, pero la falta de biomarcadores predictivos nos hace seguir investigando para su identificación y validación. Una de las moléculas que ha emergido con fuerza es el factor activador de linfocito B, BAFF, encargado de mantener la homeostasis de los linfocitos B. BAFF es requerido para la proliferación y supervivencia de los linfocitos B y su ausencia, o la de su receptor, se traduce en una profunda linfopenia. Por el contrario, niveles excesivos de BAFF se han asociado a la generación de linfocitos B autorreactivos, autoanticuerpos y aparición de desórdenes autoinmunes. Dada la complejidad de la respuesta del sistema inmunitario, varios marcadores deben evaluarse en conjunto...
Organ transplantation is an approach for various end-stage heart, kidney and lung diseases. However, a mayor pitfall of transplantation is the requirement of immunosuppressive therapy necessary for organ rejection prevention, whereas it can also pose a risk for infection and tumor development. Specifically, infectious complications are the main cause of death during the first-year post-transplant. Until now, CD3+ cells were the focus of transplantation studies with scarce research of the role of B cells, mostly limited to their role in antibody production. However, B cells also poses regulatory functions that they exert through production of different cytokines, such as interleukin 10 (IL-10), IL-35 or TGF- β. Depletion of B cells and their mediators may alter cellular homeostasis and cause a deleterious shift in the delicate inflammatory/regulatory balance. Post-transplant monitoring of immune response is of crucial importance, given the fact that early detection and treatment of infection or transplant rejection leads to significant decrease in morbidity and mortality. However, reliable markers to detect patients at risk for development of these complications are lacking. One molecule with this capacity could be B-cell activating factor (BAFF). BAFF is a cytokine belonging to the tumor necrosis factor family and it has an important role in survival, proliferation and differentiation of B-cells. The absence of BAFF or its receptor causes profound lymphopenia, whereas increased levels of BAFF are associated with generation of autoreactive B lymphocytes. Several studies have already demonstrated a correlation between elevated BAFF levels and chronic graft versus host disease, as well as BAFF and autoimmune disease. Due to the complexity of immune response, different markers should be evaluated in conjunction...
Description
Tesis de la Universidad Complutense de Madrid, Facultad de Medicina, Departamento de Inmunología, Oftalmología y Otorrinolaringología, leída el 12/12/2018
Collections