Publication:
Aspectos clínicos, bioquímicos y genéticos de pacientes con hiperplasia suprarrenal congénita por déficit de 21 hidroxilasa detectados mediante programa de cribado neonatal de la Comunidad Autónoma de Madrid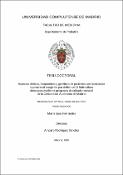 Files
Authors
Advisors (or tutors)
Editors
Publisher
Universidad Complutense de Madrid
Abstract
El manejo de los niños con déficit de 21 hidroxilasa (21OHD) continúa siendo un desafío, especialmente respecto al potencial de crecimiento. El principal tratamiento del 21OHD son los corticoides, y el objetivo fundamental del tratamiento es prevenir las crisis adrenales derivadas de dosis bajas de corticoides, disminuir la virilización de las mujeres afectas y prevenir la talla baja derivada del hiperandrogenismo. Aunque el cribado neonatal de 21OHD ha mejorado la mortalidad y el pronóstico de talla adulta, establecer la optimización del tratamiento glucocorticoideo continua siendo un reto por el potencial efecto de los glucocorticoides en sí mismos en la reducción del crecimiento lineal y el hiperandrogenismo derivado del infratratamiento que precipitará el cierre de las epífisis, resultando en una reducción de la talla final. El empleo de dosis altas iniciales de glucocorticoides se ha propuesto para prevenir el hiperandrogenismo crónico y mejorar el pronóstico de talla adulta de los pacientes con 21OHD...
The management of children with 21-hydroxilase deficiency (21OHD) remains a challenge, especially with regard to growth potencials. 21OHD is mainly treated with glucocorticoid supplementation, and the major goals of the treatment are preventing adrenal crisis caused by shortage of glucocorticoid, decreasing virilization of female patients and preventing short stature caused by androgen excess. Althought the newborn screening of 21OHD has improved the mortality and the prognosis of final height, establishing an optimized protocol of glucocorticoid treatment is still challenging because glucocorticoid itself has a strong potencial to reduce linear growth, while androgen excess due toundertreatment precipitates the closure of the epiphyseal growth plates, resulting in a reduction of final height. An initial high-dose of glucocorticoid has been proposed to prevent chronic androgen excess, improving the final height prognosis of 21OHD patients...
Description
Tesis de la Universidad Complutense de Madrid, Facultad de Medicina, Departamento de Pediatría, leída el 03/12/2018
Collections