Publication:
Modos de desarrollo y configuraciones espaciales: Ecuador 1948-2006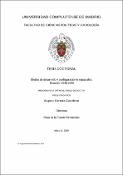 Files
Authors
Advisors (or tutors)
Editors
Publisher
Universidad Complutense de Madrid
Abstract
Ecuador se transformó de un país básicamente rural, serrano y agrario a mediados de siglo veinte, a otro mayoritariamente urbano, con predominancia de la población de la Costa y con una economía aun altamente dependiente de actividades primarias, extractivas y agrícolas. El trabajo se propone explicar las enormes transformaciones espaciales a la luz de los distintos modos de desarrollo que se establecieron entre 1948 y 2006. Para abordar esta problemática, la investigación se sitúa conceptual y metodológicamente entre la teoría de la regulación y la geografía critica; a partir de este instrumental se analizan los regímenes de acumulación y los marcos de regulación, con énfasis en aquellos que tienen más claras implicaciones espaciales. Se analizan los mecanismos y estrategias espaciales con los cuales los sectores hegemónicos y el estado configuraron el espacio como elemento central de la acumulación...
Ecuador was transformed from a rural, agrarian country in the highlands in the mid-twentieth century, to another mostly urban, with predominance of the population of the Coast and an economy still highly dependent on primary, extractive and agricultural activities. This work aims to explain the enormous spatial transformations in light of the different modes of development that were established between 1948 and 2006. To address this problem, the research bases its concepts and methodology among the theory of regulation and critical geography. Based on both, the accumulation regimes and regulatory frameworks are analyzed, with an emphasis on those that have the clearest spatial implications. The spatial mechanisms and strategies with which the hegemonic sectors and the state configured space as the central element of accumulation are analyzed...
Description
Tesis de la Universidad Complutense de Madrid, Facultad de Ciencias Políticas y Sociología, leída el 22-10-2018
Collections