Publication:
Los referéndums en Venezuela durante la revolución boliviariana de Hugo Chávez, (1999-2009)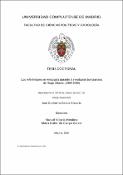 Files
Authors
Advisors (or tutors)
Editors
Publisher
Universidad Complutense de Madrid
Abstract
La utilización del referéndum en Venezuela fue una constante desde la llegada al poder de Hugo Chávez. En la mayoría de los casos, los referéndums celebrados contribuyeron a legitimar y dar continuidad a los gobiernos de este carismático líder, con lo cual dichos procedimientos de democracia directa permitieron el cambio o la estabilidad del sistema político para sentar las bases y favorecer el desarrollo de la Revolución Bolivariana. Bajo esta premisa, el objetivo general de la investigación es analizar las dinámicas de activación y estructuración de los referéndums venezolanos de carácter nacional realizados entre 1999 y 2009. El marco conceptual de referencia del estudio son principalmente los postulados que plantea la teoría de los jugadores con veto de Tsebelis en torno a las lógicas competitivas o exclusivas de control que puede tener el establecimiento de la agenda en un referéndum. La hipótesis central de la investigación consiste en que Chávez, como presidente de la república, promovió el desarrollo de una lógica exclusiva de control de la agenda de los distintos procesos referendarios que le permitió al poder ejecutivo la eliminación, sustitución y creación de jugadores con veto dentro de la dinámica de cambios políticos y constitucionales que vivió el sistema político desde el comienzo de la Revolución Bolivariana en 1999...
The use of referendum in Venezuela was a regular tendency during Hugo Chavez's governments. Throughout three presidential periods that had Chavez's administration, the referendums realized given legitimacy and continuity to Bolivarian Revolution, which showed that the change and stability of Venezuela political system between the years 1999 and 2009 was one consequence of control of all referendum by executive branch. Under this premise, the objective of this study is to analyze the development process of the national referendums realized in Venezuela during Hugo Chavez age. The theoretical framework of this research is essentially the veto players theory of George Tsebelis and his thesis about the competitive or exclusive control of referendum agenda and the effect it have on stability of a political system. The research hypothesis is that Chavez, by presidential executive orders, forced the building exclusive and private agenda setting of all referendums. This restrictive agenda control allowed executive branch to cancel, substitute and create veto players into political and constitutional change process occurred in Venezuela since beginning the Bolivarian Revolution in the year 1999. The study has a methodological design qualitative with a descriptive approach whose analysis is to exam five variables: referendum juridical institutionalization level, referendum activation mode, referendum question formation process, referendum voting organization, and political and legal impact of referendum outcomes...
Description
Tesis de la Universidad Complutense de Madrid, Facultad de Ciencias Políticas y Sociología, leída el 30/11/2018
Collections