Publication:
Multidecadal to centennial surface wind variability over Northeastern North America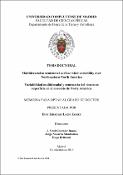 Authors
Advisors (or tutors)
Editors
Publisher
Universidad Complutense de Madrid
Abstract
Surface wind is relevant for society, from pollutant dispersion to structural vulnerability studies and wind power production. Over Northeastern North America the large scale combined with orography and other local features contributes to a high wind variability and the occurrence of extreme wind events all year round. Up to date no studies dealt with the surface wind variability, from intra-annual to centennial timescales, over the region as a whole, and in relation with the large scale circulation patterns. An exhaustive assessment of uncertainties has been conducted in every step of the analysis, from the construction of an observational wind dataset of acquired quality to the evaluation of the methodological uncertainty involved in the downscaling strategy...
El viento en superficie es relevante para la sociedad, desde la dispersion de contaminantes hasta los estudios de vulnerabilidad estructural y la produccion de energía eolica. En el noreste de Norteamerica, la gran escala combinada con la orografía y otras características locales contribuye a una alta variabilidad del viento y a la ocurrencia de eventos extremos de viento durante todo el año. Hasta la fecha no se ha realizado ningún estudio sobre la variabilidad del viento en superficie, desde escalas temporales intraanuales hasta centenarias, en el conjunto de la región y en relación con los patrones de circulación a gran escala. Se ha llevado a cabo una evaluación exhaustiva de las incertidumbres en cada paso del análisis, desde la construcción de una base de datos observacional de viento de calidad adquirida hasta la evaluacion de la incertidumbre metodológica implícita a la estrategia de downscaling utilizada...
Description
Tesis de la Universidad Complutense de Madrid, Facultad de Ciencias Físicas, Departamento de Física de la Tierra y Astrofísica, leída el 20-12-2018
Collections