Publication:
Verificación de la identidad de personas en base a trazos manuscritos simples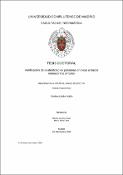 Files
Authors
Advisors (or tutors)
Editors
Publisher
Universidad Complutense de Madrid
Abstract
Esta tesis presenta una metodología para la verificacion de la identidad de personas en base al analisis de trazos manuscritos simples, tanto individuales como combinados.A pesar de evolucionar hacia un futuro puramente digital, el reconocimiento del escritor, usando imagenes digitales, ha recibido mucho interes debido a sus aplicaciones en la vida real, principalmente en el analisis forense de documentos, la clasificacion de los archivos historicos, la verificacion de firmas, estudios sobre la correlacion entre la escritura y diferentes trastornos neurologicos, prediccion del genero o rango de edad del escritor, así tambien como en diferentes campos como la seguridad y control de acceso. El interes de esta tesis doctoral es que obtiene los descriptores para la verificacion a partir de grafemas o de los segmentos que constituyen la escritura, en contraste con la complejidad del trazo manuscrito utilizado en los sistemas de reconocimiento de firmas. Muchas veces la firma presenta formas rebuscadas y artificiosas, de estructura complicada, lo que dificulta identificar los impulsos que la forman y as determinar su genesis grafica...
This thesis presents a methodology to verify a person's identity based on the analysis of both individual and combined handwritten strokes. Despite the development towards a purely digital future, writer recognition using digitalimages has attracted considerable interest due to its multiple applications in the real world. The main uses take place in the analysis of forensic documents, the classification of historical archives, signature verification, studies on the relationship between writing and different neurological disorders, prediction of the writer's genre or age range, as well as in different elds, such as security and access control.This work is inspired by the methodology used in forensic handwriting analysis. What is remarkable about this PhD thesis is that the descriptors are obtained from graphemes or the constitutive segments of writing, in contrast with the complexity of the handwritten stroke used in the systems of signature recognition. Usually, a signature has unspontaneous and unnatural figures, of complex structure, which make it dicult to identify the impulses that form it and to determine its graphic origin...
Description
Tesis inédita de la Universidad Complutense de Madrid, Facultad de Informática, Departamento de Arquitectura de Computadores y Automática, leída el 12/07/2018. Tesis formato europeo (compendio de artículos)
Collections