Publication:
La noción de evidencia en la escritura de Francis Ponge. Análisis de la relación entre textualidad y visualidad desde una perspectiva retórica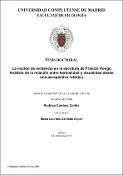 Files
Authors
Advisors (or tutors)
Editors
Publisher
Universidad Complutense de Madrid
Abstract
La presente investigación propone una lectura de la obra de Francis Ponge a partir de la operación de la figura retórica de la evidencia (o enárgeia, según su denominación griega). Su objetivo es determinar el significado y el alcance de dicha operación, de acuerdo a la premisa de que la noción de evidencia desempeña un papel clave en la escritura pongeana por cuanto se sitúa en la base de su interés por la pintura y, en general, por la visualidad. En particular, la tesis plantea que la escritura pongeana implica una transformación de la antigua figura retórica de la evidencia, cuyo dar a ver ya no busca producir una imagen mental en la imaginación del receptor, sino que concede una importancia crucial al trabajo ejercido sobre el medio material de la palabra en la restitución de la presencia sensible del objeto de emoción. Ese trabajo se revela como un proceso de modelado de la materia verbal que se muestra en permanente movimiento hacia una forma, sin que esta última alcance necesariamente una forma final...
This investigation proposes a reading of the work of Francis Ponge that focuses on the operation of the rhetorical figure of evidence (or enárgeia according to its Greek name). Its objective is to determine the meaning and the import of this operation, starting from the premise that the notion of evidence plays an important role in Ponge'swriting due to its position at the base of his interest in painting and on visuality ingeneral. In particular, this thesis proposes that Ponge's writing implies a transformation of the ancient rhetorical figure of evidence, in which this figure's showing no longer seeks to produce a mental image in the imagination of the receiver, but rather focuses on the crucial importance of the work on the material medium of the word as a way of restituting the sensitive presence of the object of emotion. That work is revealed to us as the crafting process of the verbal material shown as a permanent movement towards a form, without reaching necessarily a final shape...
Description
Tesis de la Universidad Complutense de Madrid, Facultad de Filología, leída el 02/02/2018
Collections