Publication:
El corpus atribuido a Sisberto de Toledo: estudio, historia del texto y edición crítica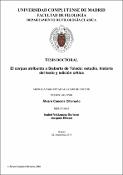 Files
Authors
Advisors (or tutors)
Editors
Publisher
Universidad Complutense de Madrid
Abstract
LA PRESENTE TESIS DOCTORAL ofrece la primera edición crítica completa del llamado«Corpus de Pseudo-Sisberto de Toledo», tres textos latinos altomedievales de temática penitencial titulados Exhortatio poenitendi (CPL 1227), Lamentum poenitentiae (CPL1533) y Oratio pro correptione uitae (CPL 1228). La última edición, publicada por KarlStrecker en 1923, se ocupa solo de las dos primeras obras y parte de un conocimiento, a menudo indirecto y parcial, de doce códices; el texto de la Oratio dependía todavía de la editio princeps, publicada en 1601. El presente trabajo estudia los treinta y dos testigos manuscritos hoy conocidos, datados entre los s. IX y XVI; todos han sido examinados, descritos y colacionados de manera íntegra y exhaustiva. El análisis individual de cada tradición permite el establecimiento de sendos stemmata, la eliminación de numerosos codices descripti, el examen del texto ya viciado del arquetipo y una constitución de un texto crítico fundamentado en una reconstrucción stemmática verosímil. El Lamentum presenta un problema particular y muy complejo: la existencia de una recensión abreviada, alterada e interpolada, citada en el interior de una Vita Isidori del s. XII-XIII (CPL 1214, BHL4486). Strecker combinó ambas versiones y generó una recensión artificial del poema. El estudio contrastado de ambas revela que la versión breve es una refección posterior, debida a un autor distinto; en consecuencia, la edición resultante diverge notablemente del texto de Strecker...
LA PRÉSENTE THÈSE DE DOCTORAT a pour but de proposer la première édition critique complète du « Corpus du Pseudo-Sisbert de Tolède », un corpus de trois oeuvres latines de thématique pénitentielle, écrites au haut Moyen Âge et intitulées Exhortatio poenitendi (CPL 1227), Lamentum poenitentiae (CPL 1533) et Oratio pro correptione uitae (CPL 1228). La dernière édition, publiée par Karl Strecker en 1923, a seulement inclus les deux premières compositions et elle est basée sur une connaissance imparfaite et indirecte de douze manuscrits. Le texte de l'Oratio, par contre, dépendait encore de l'editio princeps de 1601. La première partie de la thèse étudie trente-deux témoins datés entre le IXe et le XVIe siècle ; on a décrit et complètement collationné tous les manuscrits. D'après l'analyse individuelle de chaque tradition il est possible d'établir un stemma codicum pour chaque oeuvre, d'éliminer certains codices descripti, d'examiner le texte déjà corrompu de l'archétype et d'offrir un texte critique fondé sur une reconstruction vraisemblable des relations entre les différents manuscrits. Une des oeuvres, le Lamentum, pose un problème particulier et très complexe : l'existence d'une version abrégée, interpolée et modifiée, citée dans une Vita Isidori composée à Léon entre le XIIe et le XIIIe siècle (CPL 1214, BHL 4486). Strecker a combiné les deux recensions et généré une troisième forme textuelle qui ne correspond à aucune version historique attestée. L'étude détaillée indique que la version abrégée est en réalité une révision postérieure, faite par un auteur différent ; par conséquent, l'édition du Lamentum qu'on propose est très différente à celle de Strecker...
This PhD Thesis provides the first complete critical edition of the so-called "Corpus of Pseudo-Sisbert of Toledo", which consists of three early-medieval Latin texts entitled Exhortatio poenitendi (CPL 1227), Lamentum poenitentiae (CPL 1533) and Oratio procorreptione uitae (CPL 1228). The most recent edition of this corpus, published by KarlStrecker in 1923, included only the first two works and relied on twelve manuscripts, which he had partly studied through second-hand collations; as for the Oratio, all printed texts depend on the editio princeps of the corpus, which was published in Parisin 1601.This study has analyses the thirty-two witnesses, copied between the 9th and the16th centuries, that are known today. Every manuscript has been studied, described and collated in full. A stemma codicum has been established for each work; numerous codices descripti have been identified and the text of the archetype has been subjected to critical analysis. The manuscript tradition of the Lamentum is particularly complex and problematic: a 12th/13th-century Vita Isidori (CPL 1214, BHL 4486) quotes the text in an abridged and interpolated version, which is very different from the rest of the manuscript tradition. Strecker combined both versions and published a critical text that does not correspond to any historical version. A comprehensive study has led to the conclusion that the short version is of more recent date than the first and was prepared by a different author...
Description
Tesis de la Universidad Complutense de Madrid, Facultad de Filología, Departamento de Filología Clásica, leída el 06/11/2018
Collections