Publication:
Napoleón como modelo político en la Europa del siglo XIX: el caso español (1814-1870)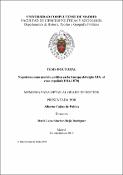 Files
Authors
Advisors (or tutors)
Editors
Publisher
Universidad Complutense de Madrid
Abstract
La tesis doctoral Napoleón como modelo político en la Europa del siglo XIX: el caso español (1814-1870) parte de la necesidad de profundizar en los estudios acerca de la vertiente política del militar corso en un contexto europeo, pero prestando especial atención a las peculiaridades que presenta la España decimonónica en esa cuestión. Dado que las materias políticas son lo primordial en la investigación, en el enfoque de elaboración de la misma queda fuera de este trabajo la estricta historia militar. La tesis está más encaminada hacia la disciplina de la historia política y del pensamiento.La investigación pretende constatar la existencia y aplicación, dentro del marco establecido por el tipo ideal de Max Weber, del modelo político de carisma napoleónico en la España y en la Europa del siglo XIX. Para ello, tras un apartado netamente conceptual enfocado en esclarecer ideas tan importantes para la investigación como carisma, mesianismo, liderazgo, cesarismo y bonapartismo, se estudian las condiciones políticas, sociales y bélicas previas que facilitaron que tal paradigma surgiese y perviviese durante décadas después de la muerte de Napoleón en Santa Helena...
The doctoral thesis Napoleon as a political model in 19 th century Europe: the Spanish case (1814-1870) comes from the need to delve into the works on Corsican's political side in an European context, but paying attention to the 19 th century Spain's peculiarities. Since political issues are the most important thing in this research, military history rests out of the thesis elaboration approach. It is directed to the discipline of political and thought history.The research aims to confirm the existence and rollout, inside the frame established by Max Weber's ideal type, of Napoleonic charisma model in Spain and in Europe during the 19 th century. In order to do that, after a clearly conceptual section focused on important ideas for the research such as charisma, messianism, leadership, caesarism and Bonapartism, political, social and war previous conditions which facilitated the rising and survival of that paradigm for decades after Napoleon's death in Saint Helena are studied...
Description
Tesis de la Universidad Complutense de Madrid, Facultad de Ciencias Políticas y Sociología, Departamento de Historia, Teorías y Geografía Políticas, leída el 04-06-2019
Collections