Publication:
La mutua de seguros en el siglo XXI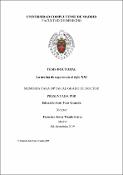 Files
Authors
Advisors (or tutors)
Editors
Publisher
Universidad Complutense de Madrid
Abstract
La Mutua de seguros es una forma jurídica típica del mercado de seguros, a través de la cual las personas se han organizado históricamente para dar respuesta a los riesgos que tenían que soportar, tanto en su ámbito personal como profesional. Su naturaleza jurídica basada en los principios de solidaridad y economicidad, coexiste con las sociedades anónimas de seguros, en las que predomina el interés lucrativo de la entidad. La falta de una normativa que regule y respete sus especificidades tiene como consecuencia la equiparación de las exigencias económicas y financieras, la solvencia y las bases técnicas de las Mutuas al resto de entidades de seguros, obstaculizando así el desarrollo del fenómeno mutual y dificultando a las Mutuas existentes cumplir con las condiciones para la obtención de la autorización administrativa que les permita acceder al ejercicio de la actividad aseguradora. En la presente tesis se expondrá: el control de la actividad aseguradora y el fenómeno mutualista; el origen y evolución de la naturaleza jurídica de este tipo societario; los fenómenos de la desmutualización y la mutualización desde una panorámica comparada; y, por último, el análisis de su régimen jurídico.
The Mutual Insurance company is one of the typical legal forms of the insurance market by which people have historically chosen to protect their professional and personal risks. Its legal nature is based on the principles of solidarity and economic efficiency, coexisting with the lucrative purposes of the insurance corporations. The lack of a Regulation regarding the Mutua has as a consequence the equalisation of the economic and financial requirements, the solvency and technical bases of the Mutual Societies to the rest of the insurance entities, hindering the development of the mutual phenomenon and making it difficult for the existing Mutual Insurance companies to comply with the necessary conditions to obtain the administrative authorization that allows them to offer their services in the insurance market. The present study will discuss the supervision of the insurance activity and the mutualistic phenomenon; the origin and evolution of the Mutual society; the demutualization and mutualizations process from an international perspective; and lastly the analysis of the Mutual Insurance legal framework.
Description
Tesis de la Universidad Complutense de Madrid, Facultad de Derecho, leída el 29-05-2019. Retirada por expreso deseo del autor.
Collections