Publication:
Generación y transferencia de ciencia, tecnología e innovación como claves de desarrollo sostenible y cooperación internacional en América Latina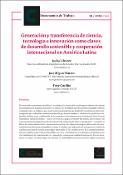 Advisors (or tutors)
Editors
Abstract
El avance del conocimiento científico, la tecnología y la innovación constituyen un objetivo de carácter transversal para el desarrollo sostenible en el marco de los Objetivos de Desarrollo Sostenible (ODS) de la Agenda 2030. La evidencia para América Latina demuestra que la falta de vinculaciones entre la investigación que realizan las instituciones científicas y las universidades, y la del sector productivo e industrial, obedece a una combinación de factores de carácter estructural e institucional. Estos factores responden a razones históricas —que se derivan de la propia evolución del sistema universitario y de la escasa institucionalización de la relación entre la universidad y el sector productivo— y también se deben a la inadecuación de los sistemas de incentivos y al conjunto de riesgos y altos costes de oportunidad en las relaciones universidad-empresa. La definición y aplicación de acciones en el ámbito de la política nacional de ciencia, tecnología e innovación (CTI), y también en el de la cooperación internacional, implica conocerlas oportunidades, así como las limitaciones y los bloqueos, de la interacción y la transferencia de conocimiento en el seno de los sistemas nacionales de innovación. En este documento se realiza, en primer lugar, una revisión en profundidad de la situación de la región en materia de CTI, y —a partir de la evidencia y los trabajos anteriores— se reseña la heterogeneidad que la caracteriza. Además se analizan las oportunidades, debilidades y bloqueos que son comunes a los sistemas de la región. Bajo este diagnóstico, se identifican los problemas comunes, las experiencias que permiten contrastar las posibilidades de la cooperación internacional y los espacios para profundizar en la cooperación euro-latinoamericana. El trabajo concluye reseñando las ventajas de promover una mayor interacción —en el ámbito nacional e internacional— a partir de aspectos tales como el potencial de movilidad internacional, el intercambio de experiencias y la colaboración en el desarrollo de capacidades endógenas.
The advancement of scientific knowledge, technology and innovation is a transversal sustainable development aim within the context ofthe Sustainable Development Goals ofthe 2030Agenda. Evidence for LatinAmerica shows thatthe lack oflinkages between the research done by universities and scientific institutions and the investigations sponsored by the productive and industrial sectors is attributable to a combination of both structural and institutional factors. These factors have their roots in history — they derive from the university system itself and the scant institutionalization of the relationship between academia and the productive sector— and also in the inadequacy ofthe incentive systems and the set of risks and high opportunity costs that relations between university and the private sector imply. The definition and development of actions stemming from national policies for science,technology and innovation, and also from international cooperation, imply knowing both the opportunities and the limitations ofinteraction and knowledge conveyance within national innovation systems. This text,first, reviews in depth the conditions of the region regarding science, technology and innovation and, on the basis of evidence and previous research,reports on its characteristic heterogeneity.Also, it analyzes the opportunities, weaknesses and deadlocks common to the region's systems. On the basis ofthis diagnosis, common challenges are identified, as well as the experiences that allow for contrasting the possibilities of international cooperation and the spaces available to deepen cooperation between Europe and Latin America.The paper concludes with the advantages of promoting greaterinteraction –both atthe national and international levels– on aspects such as the potential ofinternational mobility, the exchange of best practices and the collaboration for the development of endogenous capabilities.