Publication:
Rigidity-preserving and cohomology-decreasing extensions of solvable rigid Lie algebras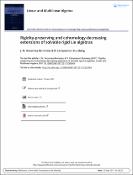 Advisors (or tutors)
Editors
Abstract
It is shown that the two-known series of rank one (Formula presented.) and rank two (Formula presented.) finite-dimensional solvable rigid Lie algebras with non-vanishing second cohomology can be extended to solvable rigid Lie algebras of arbitrary rank (Formula presented.) such that the cohomology is preserved exactly. For the second series, it is further proved that an extension decreasing the cohomology exists, hence leading to cohomologically rigid Lie algebras.
Collections