Publication:
Crisis económica y economía social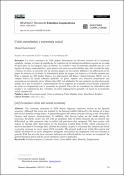 Authors
Advisors (or tutors)
Editors
Publisher
Facultad de Ciencias Económicas y Empresariales. Escuela de Estudios Cooperativos
Abstract
La crisis económica de 2008 golpeó fuertemente los diversos sectores de la economía española. Aunque el punto de partida fue la explosión de la burbuja inmobiliaria seguida de la caída de gran parte de las antiguas cajas de ahorro, se extendió a toda la economía dejando tras de sí un reguero de cierres empresariales y paro masivo así como un sector público que, tras rescatar las cajas y bancos en crisis, se encontró con un enorme agujero en las cuentas públicas y un diferencial en los pagos de intereses de la deuda (la denominada prima de riesgo) con respecto a la deuda alemana que llegó a superar los 500 puntos básicos. La intervención del Banco Central Europeo (BCE) con su compra masiva de deuda soberana permitió, en parte, superar esta situación propiciando una economía en crecimiento en los últimos años (2014 en adelante). En este contexto se sitúa el presente trabajo en el que se estudia el comportamiento de las empresas de economía social durante el período de crisis en comparación con la economía en general. Para ello se consideran los indicadores más usuales y se comparan las dos vertientes: el sector empresarial en general y el sector de la economía social en particular.
The economic recession of 2008 deeply impacted numerous sectors in the Spanish economy. Although this crisis was sparked by the housing bubble followed by the demise of a large part of now defunct savings banks, it spread throughout the entire economy leaving a trail of business closures and massive unemployment. In addition, after having bailed out the banks during the recession, the public sector was left with an enormous hole in public finances and an interest rate differential on debt payments (the so-called risk premium) that surpassed 500 basis points with respect to German debt. Intervention by the European Central Bank (ECB), which consisted of a massive purchase of sovereign debt, allowed the country, in part, to overcome this situation and foster a growing economy in recent years (2014 onwards). The present work is set within this context and studies the behavior of social enterprises during the crisis period in comparison with the economy in general. With this aim, the most common indicators are utilized and the two sectors are compared: the general business sector and the social enterprise sector in particular.
Description
Monográfico: Integración cooperativa y reestructuraciones socialmente responsables
Citation
Algora, J. M. (2011) La economía social: Crisis y recuperación económica. Haol. Nº 25, pp 133-140. Alianza Cooperativa Internacional (1995) Asamblea General. Manchester. Bacchiega, A. y Borgaza, C. (2003) The economics of the third sector: A more comprehensive approach. En H.K. Anheier y A. Ben Ner (eds), The study of non profit enterprises: Theories and approaches. Nueva York: Kluwer. Bretos, I. y Morandeira, J. (2016) La economía social ante la actual crisis económica en la Comunidad Autónoma del País Vasco. REVESCO. Revista de Estudios Cooperativos, Nº 122, pp. 7-33. DOI: 10.5209/rev_REVE.2016.v122.52020. Chaves, R. y Monzón, J.L. (2008) La Economía Social en la Unión Europea. Bruselas: Comité Económico y Social Europeo. Dirección general de la economía social, del trabajo autónomo y de la responsabilidad social de las empresas (varios años): Datos sobre cooperativas y sociedades laborales. Página web: www.empleo.gob.es/es/organizacion/empleo. Instituto Nacional de Estadística (INE) (varios años): Datos de la economía general. Página web www.ine.es. Pérez de Mendiguren, J. C., Etxezarreta, E. y Guridi, L. (2008) ¿De qué hablamos cuando hablamos de economía social y solidaria? Concepto y nociones afines. XI Jornadas de Economía Crítica. Román, C. (2014) Las cooperativas españolas y los ciclos económicos. Un análisis comparado. Ciriec-España. Revista de Economía, Pública, Social y Cooperativa, Nº 80 pp.77-109. Saéz, F. y González, F. (2005) Literatura y realidad del tercer sector. Un panorama comparado en García Delgado, J. L. (dir): Un enfoque económico de la economía social. Fundación Once para la cooperación e integración social de las personas con discapacidad. Sala, M., Farré, M y Torres, T. (2014) Un análisis del comportamiento cíclico de las cooperativas y sociedades laborales españolas y su relación con la actividad económica. REVESCO. Revista de Estudios Cooperativos, Nº 115, pp. 7-29. DOI: 10.5209/rev_REVE.2014.v115.45279.
Collections