Publication:
Monitoring façade soiling as a maintenance strategy for the sensitive build heritage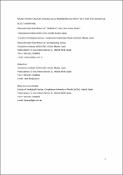 Advisors (or tutors)
Editors
Abstract
The colour patterns generally found on the façades of architecturally sensitive buildings have an adverse impact on their aesthetics, to the detriment of their identity and potential economic value. A quantitative and qualitative study was conducted of the perception of aesthetic decay in the limestone on a heritage building. The study assessed building aesthetics between two façade cleaning operations, conducted in 1984-1986 and 2006-2008. Based on the calculation of the final or total soiling index, by means of in situ lightness measurement and three architectural design variables, the colour distribution of the façades was quantified in 2006 and a model was developed to monitor façade soiling over time. The proposed model, a tool for planning preventive façade maintenance on architecturally sensitive buildings, advocates for sustainable cleaning operations. Its premise that periodic cleaning should only be conducted in areas where the limestone is affected by aesthetic decay redounds to minimised intervention and lower building management costs.
Collections