Publication:
El marco legislativo y su efecto sobre el crecimiento del sector cooperativo en Colombia (1933-2014)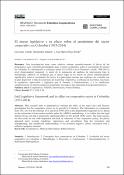 Advisors (or tutors)
Editors
Publisher
Facultad de Ciencias Económicas y Empresariales. Escuela de Estudios Cooperativos
Abstract
Esta investigación tiene como objetivo estimar cuantitativamente el efecto de las principales Leyes y Decretos promulgados para el sector cooperativo sobre el crecimiento del mismo en Colombia. La información se construye desde 1933-2014 a nivel Nacional y desde 1980-2014 a nivel departamental (regional). A partir de la estimación de modelos de intervención bajo la metodología ARIMA, se evidencia que el marco legal no he tenido un efecto estadísticamente significativo sobre el crecimiento del sector. Las principales razones que explican este resultado son la gran dispersión y falta de coherencia de la política cooperativa, el enfoque de la política más hacia la regulación, supervisión y vigilancia que al fomento y fortalecimiento, y a la insuficiente comprensión de los efectos negativos potenciales asociados a una estructura de propiedad colectiva.
This research aims to quantitatively estimate the effect of the main Laws and Decrees promulgated for the cooperative sector on its growth in Colombia. The information is constructed from 1933-2014 at the National level and from 1980-2014 at the departmental (regional) level. Based on the estimation of intervention models under the ARIMA methodology, it is evident that the legal framework has not had a statistically significant effect on the growth of the sector. The main reasons for this result are the wide dispersion and lack of coherence of the cooperative policy, the policy approach more towards regulation, supervision and surveillance than the promotion and strengthening, and insufficient understanding of the potential negative effects associated with a collective property structure.
Citation
Alvarez, M; Arbesú, P y Fe, C. (2000) Las cooperativas en el marco de la teoría de la agencia. Ciriec-España, Revista de Economía Pública, Social y Cooperativa, Nº 34, pp. 170-188. Banerjee, A; Mookherjee, D; Munshi, K y Ray, D. (2001) Inequality, Control Rights, and Rent Seeking: Sugar Cooperatives in Maharashtra. Journal of Political Economy, Vol. 109, No. 1, pp. 138-190. Barney, J y Hansen, M. (1994) Trustworthiness: Can it be a source of competitive advantage?. Strategic Management Journal, pp. 175-203. Bekkum, V y Bijman, J. (2006) Innovations in Cooperative Ownership: Converted and Hybrid Listed Cooperatives. Business paper presented at the 7th International Conference on Management in AgriFood Chains and Networks, Ede, The Netherlands, 31 May ± 2 June, 2006. Bertolin, R; Santos, A; Braga, J. y Braga, M. (2008) Assimetria de Informaçăo e Confiança em Interaçőes Cooperativas. RAC, Curitiba, Vol. 12, Nº 1, pp. 59-81. Borgen, S (2004) Rethinking incentive problems in cooperative organizations. Journal of Socio-Economics, No. 33, pp. 383±393. Caro, E. (2013) Cooperativismo y Complejidad. Implementación del cooperativismo financiero en Colombia (1997-2011). Universidad del Rosario. CONFECOOP (2014) Desempeño Sector Cooperativo Colombiano, 2014. CONFECOOP. Congreso de Colombia (1936) Ley 128 de 1936. Diario Oficial, número 23331, 11 de noviembre de 1936. Congreso de Colombia (1963) Decreto 1598 de 1963. Diario Oficial, 17 de julio de 1963. Congreso de Colombia (1981) Ley 24 de 1981. Congreso de Colombia (1988) Ley 79 de 1988. Congreso de Colombia (1998) Ley 454 de 1998. DANCOOP (1981) Diagnóstico del Cooperativismo Colombiano. Vol. 1, BogotáColombia. Departamento Nacional de Planeación (1995) Conpes 2823, 15 de noviembre de 1995. Departamento Nacional de Planeación (2010) Conpes 3639, 1 de febrero de 2010. Eberl, P. (2004) The Development of Trust and Implications for Organizational Design: a Game- and Attribution-Theoretical Framework. Schmalenbach Business Review, Vol. 56, pp. 258-273. Fajardo, M. A. (2003) Presencia del cooperativismo en Colombia. Fundación Universitaria de San Gil ± UNISANGIL. UniRcoop, Vol. 1, Nº 2. Colombia. Fama, E. y Miller, M. (1972) The Theory of Finance. Holt, Rinehart and Winston, New York. Fulton, M. y Giannakas, K. (2001) Organizational Commitment in a Mixed Oligopoly: Agricultural Cooperatives and Investor-Owned Firms. American Journal of Agricultural Economics, Vol. 83, No. 5, Proceedings Issue, pp. 1258-1265. Guerrero, V. (2003) Análisis Estadístico de Series de Tiempo Económicas. Thomson. Guinnane, T. (2001) El "amigo y consejero": gestión, auditoría y confianza en las cooperativas de crédito alemanas (1889-1914). AREAS Revista de Ciencias Sociales, Nº 21, pp. 39-61. Hansen, M; Morrow, J. y Batista, J. (2002) The Impact of Trust on Cooperative Membership Retention, Performance, an Satisfaction: an Exploratory Study. International Food and Agribusiness, Nº 5, pp. 41-59. James, H. y Sykuta, M. (2004) Farmer Trust in Agricultural Cooperatives: Evidence from Missouri Corn and Soybean Producers. Paper prepared for presentation at the 2004 meetings of the American Agricultural Economics Association, in Denver, Colorado, August 1-4, 2004. Jensen, M. y Meckling, W. (1976) Theory of the firm: Managerial Behaviour, Agency Costs and Ownership Structure. Journal of Financial Economics, Vol. 5, No. 4, pp. 305-360. Lerman, Z. y Parliament, C. (1993) Financing Growth in Agricultural Cooperatives. Review of Agricultural Economics, Vol. 15, No. 3, pp. 431-441. Menard, C. (2000) Institutions, Contracts, and Organizations: Perspective fron New Institutional Economics. Mikami, K. (2010) Capital procurement of a consumer cooperative: Role of the membership market. Economic Systems 34, P.P.178±197. Mora, M. y Pardo, L. (2014) La Historia del Cooperativismo en Colombia: Hitos y Periodos. Cooperativismo & Desarrollo, Vol 22, Nº 104. Myers, S.C. (1977) Determinants of Corporate Borrowing. Journal of Financial Economics, Vol. 5, No. 2, pp. 147-175. Myers, S.C. (1984) The capital structure puzzle. Journal of Finance, No. 39, pp. 575-592. Myers, S.C. y Majluf, N. (1984) Corporate investment decisions when firms have information that investors don't have. Journal of Financial Economics, Vol. 13, pp. 187-221. Novkovic, S. (2008) Defining the Co-operative Difference. The Journal of SocioEconomics, No. 37, pp. 2168±2177. Oczkowski, E; Krivokapic-Skoko, B. y Plummer, K. (2013) The meaning, importance and practice of the co-operative principles: Qualitative evidence from the Australian cooperative sector. Journal of Co-operative Organization and Management, pp. 54±63. Othman, A; Kari, F; Jani, R. y Hamdan, R. (2012) Factors Influencing Cooperative Membership and Share Increment: An Application of the Logistic Regression Analysis in the Malaysian Cooperatives. World Review of Business Research, Vol. 2, No. 5, pp. 24 ± 35. Procuraduría General de la Nación (2011) Políticas Públicas y Cooperativismo en Colombia. Instituto de Estudios del Ministerio Público. IEMP ediciones. Ramírez, B. (2001) La Supervisión y el Control de las Cooperativas. ARFO editores. Razeto, L. (2010) ¿Qué es la Economía Solidaria?. Papeles de Relaciones Ecosociales y Cambio Global, Nº 110, pp. 47-52. Rebelo, J; Caldas, J. y Matulich, S. (2008) Manager Power, Member Behavior and Capital Structure: Portuguese Douro Wine Cooperatives. Agricultural Economics Review, Vol. 9, No 2, pp. 5-15. Russell, L. y Briggeman, B. (2014) The Effect of Taxes on Capital Structure in Farm Supply and Marketing Cooperatives. SAEA 2014 Annual Meetings Selected Paper Presentation January 16. Sarmiento, A. y Guarin, B. (2002) Aspectos Legales de la Gestión Cooperativa. Pontificia Universidad Javieriana. Colombia. Serrano, R. (1994) Planificación Participativa. Tacti-k Creativa. Spear, R. (2004) El gobierno democrático en las organizaciones cooperativas. CiriecEspaña, Revista de Economía Pública, Social y Cooperativa, Nº 48, pp. 11-30. Uribe, C. (2003) Derecho Cooperativo. Fondo Nacional Universitario. Bogotá. Zabala, H. (2012) La Integración desde la Práctica: Criterios y Denominadores Comunes para la cooperación Sectorial. Cooperativismo & Desarrollo, Vol. 20, Nº 101.
Collections